'Delivering' on Health Care is New Assistant Professor's Specialty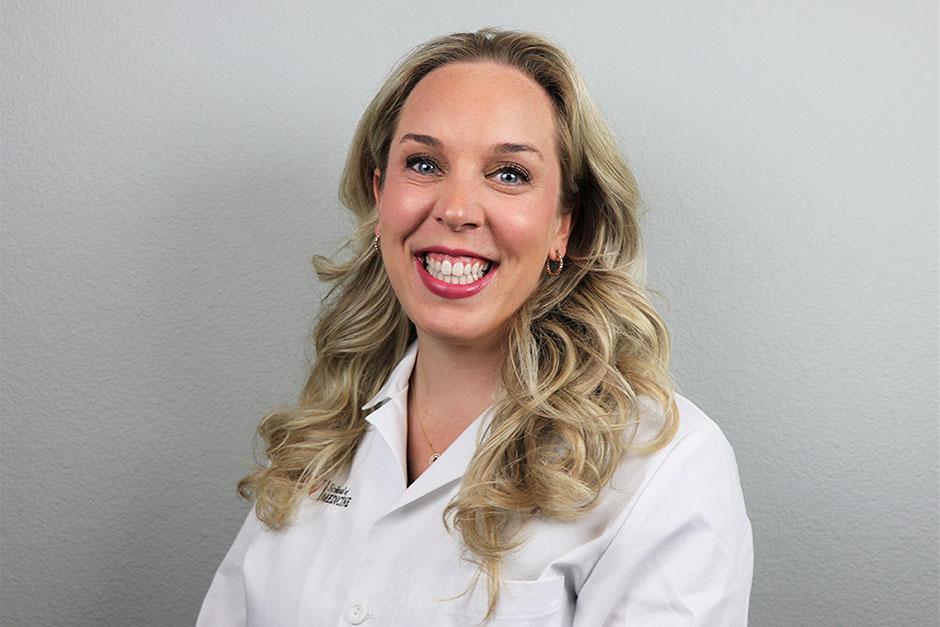 Dr. Leanne Free's passion for building relationships has led to a satisfying career as an OB/GYN physician — and to the Kirk Kerkorian School of Medicine at UNLV.
When did Dr. Leanne Free, brand-new assistant professor in the department of obstetrics and gynecology at the Kirk Kerkorian School of Medicine at UNLV, know she wanted to get into medicine? As a 15-year-old candy striper at Huntington Memorial Hospital in Pasadena, California. The proof? She logged over 1,000 volunteer hours in two years.
It was there that she fell in love. Not in the emergency room, but with the emergency room. The high pressure, the fast pace, the variety — to the point she was volunteering on Thanksgiving and Christmas. Emergency medicine was what she wanted to do. The journey began in that emergency room.
After a stop in Dallas, Texas, at Southern Methodist University for a major in chemistry and a minor in Spanish, Free went to Louisiana State University Health Science Center in New Orleans to work on her medical degree. It was there that someone told her she should become an OB/GYN provider because she was good at listening to people and made them feel comfortable. She had never even considered it before.
"I did a rotation in OB/GYN and worked on the labor floor. It had that same fast, high-paced, high-pressure environment that I liked … you wouldn't know what was coming in," says Free.
What she realized she didn't like about the emergency room was that you may not know whatever happened to your patient. With OB/GYN, there was a continuity of care throughout a patient's reproductive life that really resonated with Free. Plus, loving to work with her hands and becoming a surgeon, as well, helped meld everything together as the perfect specialty for her.
The journey continued to Brown University and Women and Infants Hospital of Rhode Island in Providence for OB/GYN residency training. She not only received the Dean's Excellence in Teaching Award for exceptional teaching and mentoring of students, but she was awarded with the Julie Baker Splendid Torch Award for excellence in patient care, combined with genuine humanity and empathy toward patients' families, staff, and co-workers. Julie Baker was a much-beloved OB/GYN resident there who died of H1N1. The award is named in her honor and given to a third-year resident going into their chief year who faculty and residents feel embodies the qualities of Julie Baker.
"It was definitely an honor to receive that award," says Free.
After completing her residency, Free's journey took her next to Colorado for a fellowship in complex family planning at the University of Colorado School of Medicine in Aurora. A pillar of complex family planning is the provision of contraception. Extremely knowledgeable in the administration and prescription of birth control and the pharmacology involved, Free assists referring providers with patients who have complex medical conditions such as multiple sclerosis, kidney failure, epilepsy, and other systemic diseases so she can guide them with indications and contraindications relevant to those diseases.
Does the doctor who never thought she'd be going into obstetrics and gynecology until she was in medical school have any idea how many babies she's delivered?
"I've delivered hundreds of babies," she says.
Is there a memorable one among them?
"One delivery I always think about — it's not particularly a sentimental delivery — but I was working at Women and Infants Hospital in Providence, when the pandemic first hit. I was the first provider to deliver a baby during the pandemic to a COVID-19-positive mom. We knew so little about COVID very early on in 2020, and this was the first pregnant mom that had come into the hospital. So, that was at a time where we put our full personal protective equipment (PPE) on from head to toe, and we were limiting the number of people in the room. So, during this patient's delivery in particular, it was really just me and the nurse that were there to support her because family members weren't allowed to be in the laboring rooms."
They also didn't know what the effects of an active COVID infection would be on the baby at that early stage of the pandemic either.
"So, kind of figuring out how mom and baby are going to bond together," continues Free, "And how the mom is going to do that without the support of her family. And, so really, it's in those moments of need where you're not only your patient's provider, but you are also their support and, try as much as you can be, to be their family in what should be one of the happiest moments of their life."
And, for now, Free's journey has brought her to Las Vegas.
"I was drawn to Las Vegas because I can tell there are so many people moving here, and Las Vegas is growing so quickly that there needs to be more doctors here. I felt like it's kind of the perfect time to come to an established residency program. I love to teach and so having the OB/GYN residency here was the perfect place to be able to continue to teach residents and medical students, but also give me the ability to care for the Las Vegas population, which is in need of more OB/GYNs."
Free continues, "I'm excited to hit the ground running. I really have a passion for delivering health care to all patients regardless of their age, their race, their ethnicity, where they're coming from, their language, gender identity, and sexual orientation. I feel comfortable and privileged to care for all of those patients, and I think that I can certainly be an asset in Las Vegas."
Having joined the Kirk Kerkorian School of Medicine family a little over a week ago, Free is adjusting quickly.
"I'm still getting my feet wet and seeing how I can best serve the patients here and faculty, too, and I'm excited about being able to teach and mentor the residents. I'm already involved in mentoring medical student research projects. Really just being involved in education at all levels, whether that be with the patients in front of me or medical students or doctors and really just being able to work together with everyone." An added benefit: she's finally in the same time zone as her family.
"This is the closest I've been to my family in a decade and a half!"