Dr. Nadia Gomez OB/GYN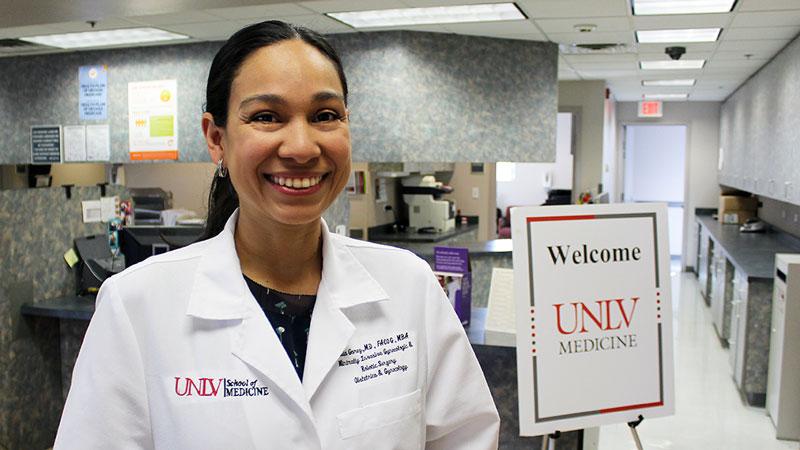 Dr. Nadia Gomez sits in her UNLV Medicine office off West Charleston Boulevard and recalls how her parents, both physicians who specialized in obstetrics and gynecology (OB/GYN) , made house calls — when her family lived in Nicaragua..
It is lunchtime — she eats in her office because of a busy schedule — and the director of the minimally invasive gynecology surgery division at the UNLV School of Medicine says she sometimes accompanied her parents to see patients.
"My mother's OB/GYN office was part of our house, so I saw her working with patients a lot at our home too. I saw how she really got to know them and their families," Dr. Gomez said.
Her family later moved to Miami when she was eight-years-old. Dr. Gomez says she will never forget the personalized medicine her parents practiced. " "I model my strong work ethic, dedication, and love towards medicine from my parents. My dad currently practices anesthesia in South Florida and my mom is retired, but still gives back to the community. She is president of a volunteer organization called the Miami-Dade Lions Club, one of many chapters worldwide."
Impetus for the Summa Cum Laude graduate of the University of Florida attending the Ponce School of Medicine in Puerto Rico was the desire to enhance her language skills in Spanish, which she felt would help her better communicate with many patients. Though the curriculum at Ponce is taught in English, day-to-day life in the U.S. territory is largely carried out in Spanish.
"Today, about 70 percent of my patients in Las Vegas are Spanish-speaking so I am grateful for the education I received in Puerto Rico," said Dr. Gomez, who is fluent in both English and Spanish.
Her childhood memories of her parents' work as doctors became part of a blog she now uses in her practice, a communication tool she hopes gives patients a better sense of her purpose and background while also providing useful medical information.
This is how she introduced her blog in June 2017:
"My name is Nadia Gomez, welcome to my blog! I grew up in a third world country, watching my parents make home calls to care for patients. I would hear their conversations at dinner regarding healthcare at a young age. Whether the conversation was about healthcare disparities, lack of resources, or a new technology, I was always intrigued…Through my blog, you will learn about me and my journey. You will also read about interesting health topics mostly pertaining to women's health, but men can also learn plenty from them so I encourage them to read them as well…."
The blog, she says, became a catalyst for emailed questions from patients.
"I felt it was better that they get information from me rather than just something they'd look up on the Internet," she said. "It was more personal."
An assistant professor of gynecology at the UNLV School of Medicine, Dr. Gomez became in 2015 the first female physician to perform robotic benign gynecological surgery at University Medical Center, where she is currently the Vice Chair of the Robotic Committee.
She prizes the time she spends both as a teacher and mentor for students and residents. She not only talks about the importance of evidence-based medicine, she maintains a vigorous research presence.
She has developed a gynecology surgery curriculum for the residents and desires to initiate a study — "Does video instruction help facilitate the learning curve?" — that analyzes how well virtual reality simulation transfers surgical skills to the operating room.
Dr. Gomez is now one of the principal investigators assembled from across the country conducting a FDA 36 month study into the safety and efficacy of Essure, a sterilization procedure developed in part to avoid the risk associated with the surgery and general anesthesia used in women having their "tubes tied," the common term for tubal ligation. Essure can be performed in the office using local anesthesia, which is beneficial for women who pose a greater risk for surgery.
Approved for use in the United States in 2002, Essure initially got high marks in reviews from both patients and clinicians. But since 2013, the Essure procedure — inserts are placed into the fallopian tubes through a camera passed through the vagina and cervix, generating scar tissue that blocks the tubes to prevent fertilization — has generated controversy.
While Bayer, the global healthcare enterprise that created Essure, has noted that nearly 1 million women have had a safe experience, more than 20,000 women have come forward to say they've had problems with the device, largely complaining about pelvic and back pain, fatigue and cramps. This controversy has encouraged more research and data collection for Essure device.
Dr. Gomez believes the the FDA study will help gather more data and provide guidance for recommendations.
"Evidence-based medicine is what we should support," she said. "We want what's best for patients."