Hero Of The Week: Carmen Vargas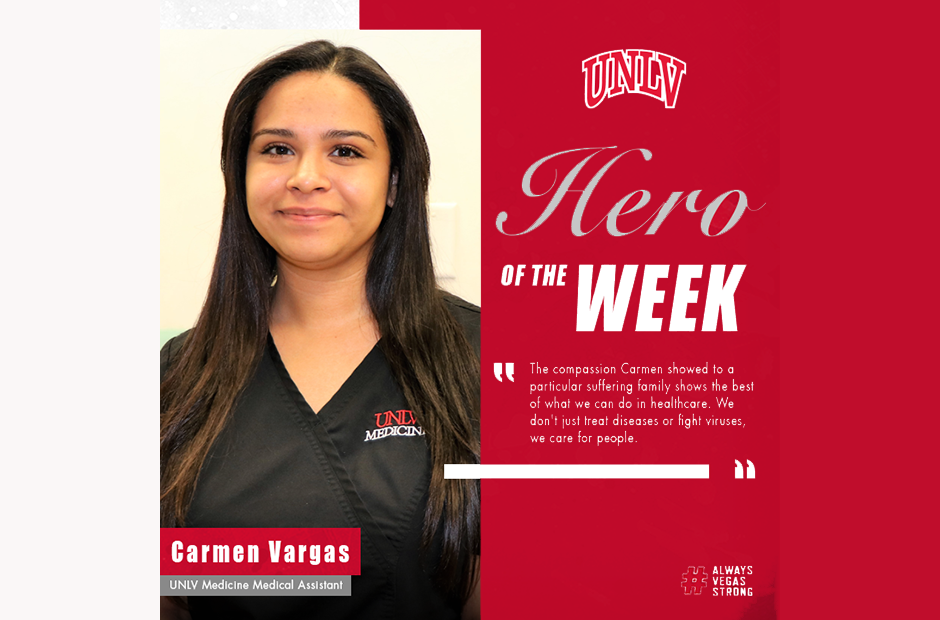 LAS VEGAS (UNLVRebels.com) - They say not all heroes wear capes. True. Some wear lab coats, scrubs and protective face masks.
In these unprecedented times, they are fighting along the front lines to win the battle to make us safe. We cheer them on, give our thanks and honor their efforts. Meet one of those heroes now.
Carmen Vargas is a Medical Assistant at the UNLV Medicine Maternal Fetal Medicine Clinic. Proud to be associated with UNLV, she recently went above and beyond to help a very frightened Spanish-speaking patient through an extremely emotional loss.
While screening patients for COVID-19 symptoms, Vargas, encountered a man with a young child whose wife was hospitalized with symptoms of the virus. Unable to visit his wife in the hospital, he felt helpless and scared, in part, because he did not speak English. Vargas took it upon herself to translate for the man during daily three-way calls with the hospital's intensive care unit. Sadly, the man's wife passed away, but Vargas assisted him with funeral arrangements and, along with her colleagues, chipped in to help defray the cost of cremation.
"The compassion Carmen showed to this suffering family shows the best of what we can do in healthcare," said Dr. Michael Gardner, Vice Dean of Clinical Affairs and UNLV Medicine President/CEO. "We don't just treat diseases or fight viruses, we care for people."
Carmen, thank you for your efforts. We are honored to recognize you as the UNLV Athletics' Hero of the Week.