The Interview: John Phelps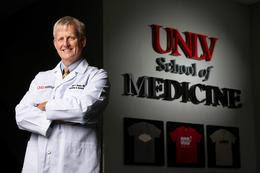 Dr. John Phelps says that no matter how many babies he delivers, he still is excited to be part of such an important family experience.
Though he's delivered hundreds of babies, Dr. John Phelps, a professor and residency program director in the UNLV School of Medicine's department of obstetrics and gynecology, says the experience never gets old.
"When you deliver a baby, you get to take part in one of the best days of your patient's life," said Phelps, who joined the medical school in April. "It's such a meaningful experience — families will cheer, grandmothers and mothers will cry. What really gets to me is seeing a father cry. They're happy tears. Even if you see it hundreds of times, it moves you."
A summa cum laude graduate of North Carolina State University, Phelps graduated from Georgetown University School of Medicine, completed his residency in OB-GYN at the Brooke Army Medical Center, and did his fellowship training in reproductive endocrinology and infertility at Johns Hopkins School of Medicine. He has more than 75 peer-reviewed publications in obstetrics and gynecology.
A captain in the U.S. Navy Reserves, Phelps also holds a law degree as well as a master of laws degree in health law from the University of Houston Law Center.
The more you learn about Phelps the more you want to know.
Something people would be surprised to learn about you
Between my wife and I, we have nine children. We both had two children prior to our marriage and since our marriage, we have had five children.
Most surprising thing about Las Vegas
In July when it was over 100 degrees in downtown Las Vegas, I took three of my children hiking at Mount Charleston, which is only about 40 minutes away. Although it was the middle of the summer and we were close to Vegas, we were hiking in the snow in tennis shoes. Living in Texas, my kids had rarely seen snow so it was a lot of fun.
Inspiration to get into your field
Obstetrics and gynecology provide a good mix of clinic and surgery. Having a practice where patients are often happy appealed to me.
What drew you to UNLV?
When I was director of the division of reproductive endocrinology and infertility at the University of Texas Medical Branch in Galveston, I had a meeting to go to in Seattle. I had heard about a new medical school in Las Vegas, so during a layover in Las Vegas, I set up an interview with Dr. Michael Gardner, the vice dean of UNLV Medicine, and Dr. James Alexander, the chairman of the department of obstetrics and gynecology. What started out as an informal interview seemed like a good fit. This school has a lot of potential and I believe in the near future will become one of the top state schools in the country.
Why also a law degree?
I am a perpetual student and I enjoy learning. I went to law school at night while working full time as a physician. It took five years to get my law degree. After also getting my legal law master's in health law, I have a good perspective on legal issues and policies impacting health care.
Why the Navy Reserves?
Being in the Navy Reserves gives me an opportunity to have a civilian career while at the same time serving my country. The military paid for my medical school. Although I have completed my military obligation requirements, I want to continue to pay back my country. By paying for my education, the military has provided me a good means by which I can support my wife and children. I also enjoy the camaraderie in the military.
A life lesson you would like to share
Watching my children grow up, I have learned life goes by real fast. It is important to take time to spend with your family. The older I get, the more I appreciate my parents, wife, and children.
What other career had you considered?
I thought I was going to be a land surveyor like my father. I worked with my father surveying on construction sites a lot while I was growing up in North Carolina. My father has a strong work ethic, which I have always admired. I think I did not become a land surveyor because my father did not go to college and he kept emphasizing to me how important it was to go to school.
A time you were daring
The summer after I graduated from high school I sailed my father's sailboat up and down the East Coast.
A guilty pleasure
I try to be healthy, but about every day I will drink a Mountain Dew and eat a pack of M&Ms.