UNLV School of Medicine Vice Dean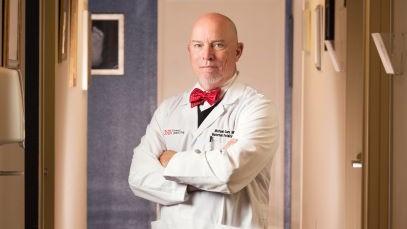 He's excited to help build the UNLV School of Medicine and UNLV Medicine from the ground up. "It's a once in a lifetime opportunity with all of the advantages and disadvantages of a startup. Since we're new and small, since we're not held to deals that were made 20, 30, 50 years ago. At some level that's our weakness, but also our strength. We can do things differently."
UNLV Medicine President, CEO, Vice Dean of Clinical Affairs, Michael Gardner, MD speaks with Executive Assistant, Virginia Weidenfeller, MS. - Photo: Paul Joncich
One of Dr. Gardner's top priorities will be fine tuning the practice plan.
"The vision is UNLV Medicine. A group of high quality physicians working together to improve the health of the people who come and see us. We want to get where the people say, 'Oh, I know if I have problems, UNLV Medicine is going to be an excellent solution.' It may not be the only solution, but an excellent solution where people feel comfortable that we're a great place for quality care, where there's innovative thinking, where people are working as teams across specialties, not siloed — that's the vision. The old model, a lot of good people did a lot of good work, but it was very segmented and siloed and there really wasn't one practice. We need to come together and provide people with a practice, a location, and a brand that people feel comfortable in."
During the past six weeks, Dr. Gardner's been busy meeting physicians and visiting clinics. "We're thrilled to be here. It is my hope and intent to be here till the end of my career and then to look back …10-15 years from now and say this was the best contribution of my career to the future of the profession."
Even though he hasn't been with the UNLV School of Medicine for very long — he came on board November 15 – he's already showing an affinity for the desert. During a recent interview, the native Texan repeatedly glanced over his shoulder to appreciate a spectacular sunset happening outside his office window.
"We love it here, having lived in the desert mainly in El Paso and Albuquerque, " he said. "I've forgotten how much I miss these types of sunsets and the mountain views, so we're thrilled to be in Las Vegas."
Dr. Gardner moved here from Houston, where he was executive vice president and administrator for Harris Health System's Ambulatory Care Services. He's also served as professor and director of the Perinatal Institute at Loma Linda University School of Medicine.
He's married to Dr. Nora Doyle, a maternal fetal medicine physician. They have three children. Two of them are grown and out of the house. Their 16-year-old son Colin survived a serious health scare a few years ago. The experience had a profound effect on the family and helped shape Dr. Gardner's thoughts about medical care.
"When our youngest was 12, he was a very talented tennis player, at least college level and some people thought maybe better. He was at a tennis academy when he passed out and we discovered he had a significantly large brain tumor. He wound up going into a coma for a few days and had several surgeries, and a couple of radiation treatments. While there are still some complications from that, he is doing much better. It was absolutely life-altering for Nora and I to be sitting beside him in the ICU during all of this…My all-time heroes used to be Bugs Bunny and Hawkeye from the television show MASH. But after seeing my son Colin tough it out through his medical issues, I put him at the top of my list."

Dr. Gardner, a self-described news junkie and voracious reader — he just finished, "Black Widow," one of Gabriel Allon's most recent novels – says he wants to make sure UNLV Medicine provides the same kind of treatment his son received.
"While we were at this children's hospital in Orange County California, I couldn't help but notice the nursing staff, when they were coming in and out of the rooms, washed their hands 99.9 percent of the time. I used to be the director of quality for three hospital systems. I'm more than the average educated consumer, and I recognized that 'little things' were contributing to him getting better. It was that attention to detail. What the nurses were doing was 'cultural.' It was not something they thought about, they just did it. That didn't happen by accident and it didn't happen overnight. Everyone deserves that kind of care and we need to teach that to our students and residents and fellows early on."