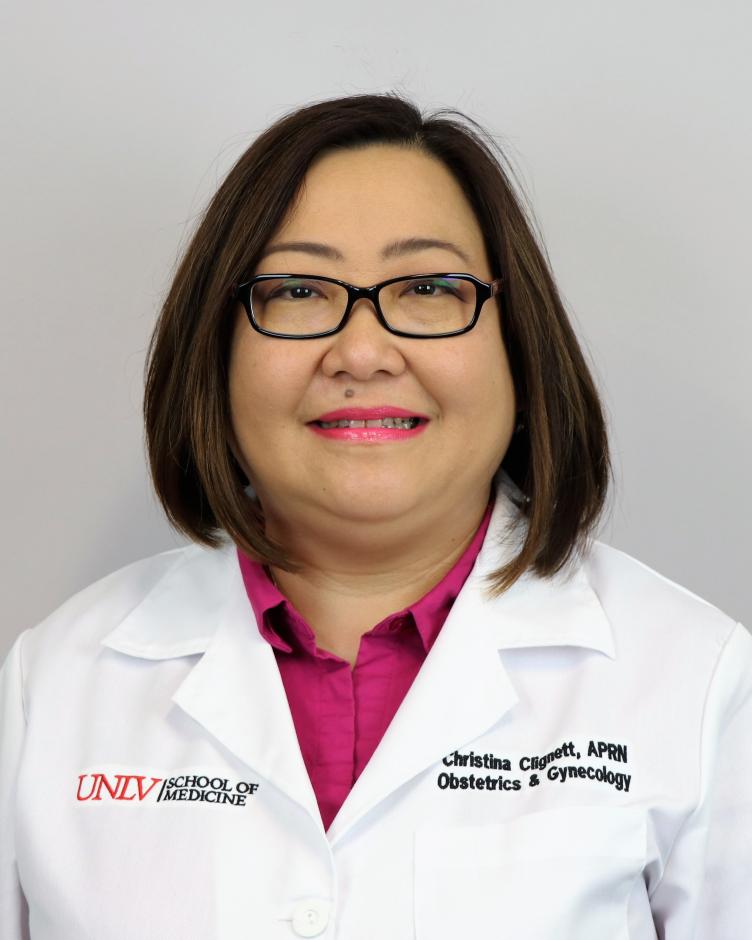 Christina Clignett, APRN
Nurse Practitioner
Christina Clignett, APRN is originally from Los Angeles, California. She went to Glendale Community College where she studied nursing and then went to Harbor UCLA Women's Health Nurse Practitioner Program. She earned her Bachelor and Master degree from University of Phoenix. She holds a Doctorate in Nursing Practice degree from Touro University in Henderson, Nevada. Christina has a particular interest in the care of adolescents and young women. She believes in health education, disease prevention and health promotion.
Christina has over 20 years' experience in Women's Health. She received an award of "Seed of Excellence" and "Value in Action" for being an excellent collaborator and provider from Glendale Memorial Hospital in California.
Prior to relocating to Nevada, she worked as labor/delivery nurse extensively in various hospitals in Los Angeles County, California, such as Valley Presbyterian Hospital Van Nuys, Kaiser Permanente, St. John's Medical Center Santa Monica, Tarzana Regional Medical Center, and Holy Cross Hospital Mission Hills. She worked as a nurse manager at Glendale Memorial hospital as nursing director at Pacifica Hospital of the Valley. She then worked as lead nurse practitioner at St. Ana Women's Clinic in Los Angeles. She provided care to indigent population and underserved women at North East Valley Health Corporation in San Fernando Valley, California. She taught in multiple nursing programs, as lead OB/GYN nursing faculty at Shepherd University and as clinical nursing instructor at Glendale Community college, California. She volunteered as a team nurse at U.S. Martial Arts Center Taekwondo competition team.