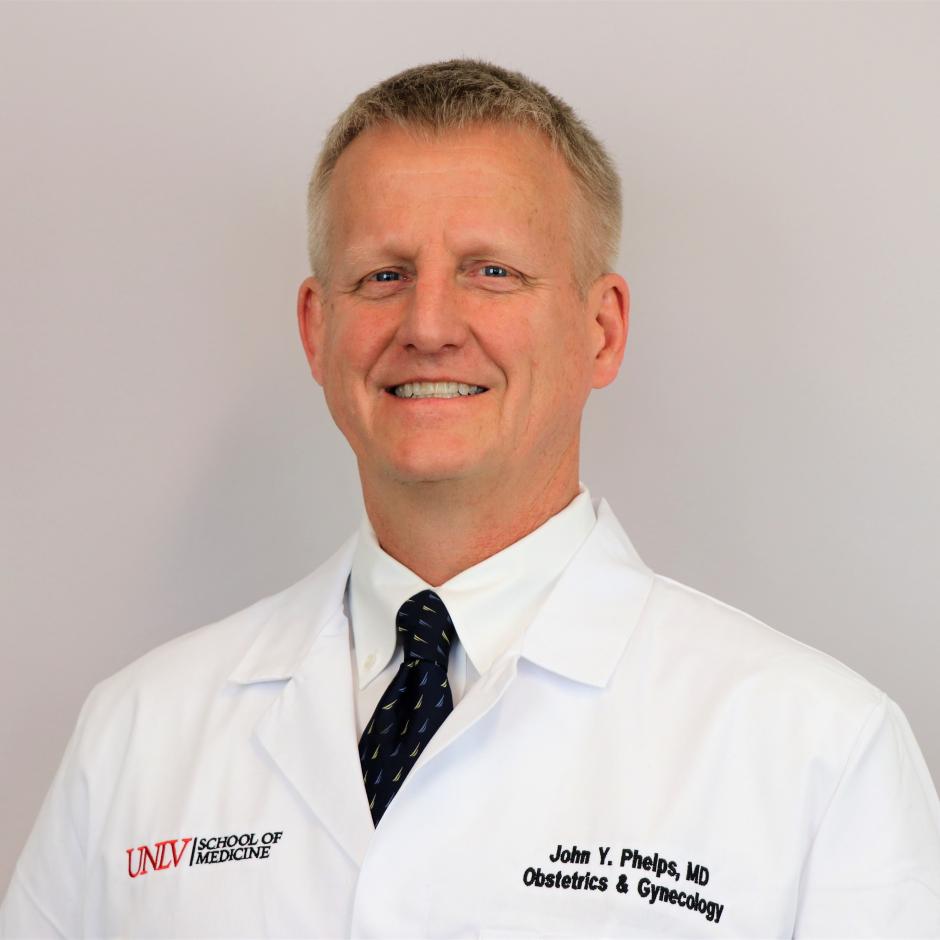 John Phelps, MD, JD, LLM
Obstetrics & Gynecology (OB/GYN)
Doctor John Phelps is a graduate of Georgetown University School of Medicine. He is double board certified in Obstetrics and Gynecology and in Reproductive Endocrinology and Infertility. He completed his fellowship in Reproductive Endocrinology and Infertility at Johns Hopkins School of Medicine. He also completed a second fellowship in Minimally Invasive Gynecologic Surgery. Prior to his arrival at UNLV Doctor Phelps was part of the teaching faculty at the University of Texas Medical Branch in Galveston Texas for 18 years and was the most recent Director of the Division of Reproductive Endocrinology and Infertility. He has spent a large portion of his career teaching gynecologic surgery to residents. He enjoys performing gynecologic surgery and strives to provide his patients the best care possible. He has achieved the academic rank of Professor.
Doctor Phelps has authored or co-authored 73 peer reviewed medical publications and 9 book chapters on topics such as Laparoscopic Hysterectomy. He has been an invited speaker at medical meetings within the United States and overseas on topics such as infertility and gynecologic surgery. He has received numerous teaching awards and was selected as one of Texas Super Doctors in 2014.
Doctor Phelps is a licensed attorney in Texas. He attended law school at night while working full time as a physician. He obtained his law degree and Legal Law Master's in Health Law at the University of Houston. Doctor Phelps also has 25 years of military service and is currently a Captain in the United States Reserves. His last assignment was as the Executive Officer of the Reserve component of Naval Medical Center Portsmouth. He was second in command of over 800 Navy Reservists. He has received three Army Commendation Medals, one Navy and Marine Corps Commendation Medal and two Navy and Marine Corps Meritorious Service Medals.
Doctor Phelps graduated from medical school in 1988 and has been practicing medicine full time since graduation 31 years ago.
Doctor Phelps enjoys spending time with his wife and their children. His daughter is an incoming freshman at the University of Nevada Las Vegas. He has two boys in high school and two daughters in junior high school. He enjoys watching his children play sports. His children are very active in sports such as volleyball, tennis, wrestling and pole vaulting. He also likes doing outdoor activities with his family such as camping, running, tennis, sailing and windsurfing.