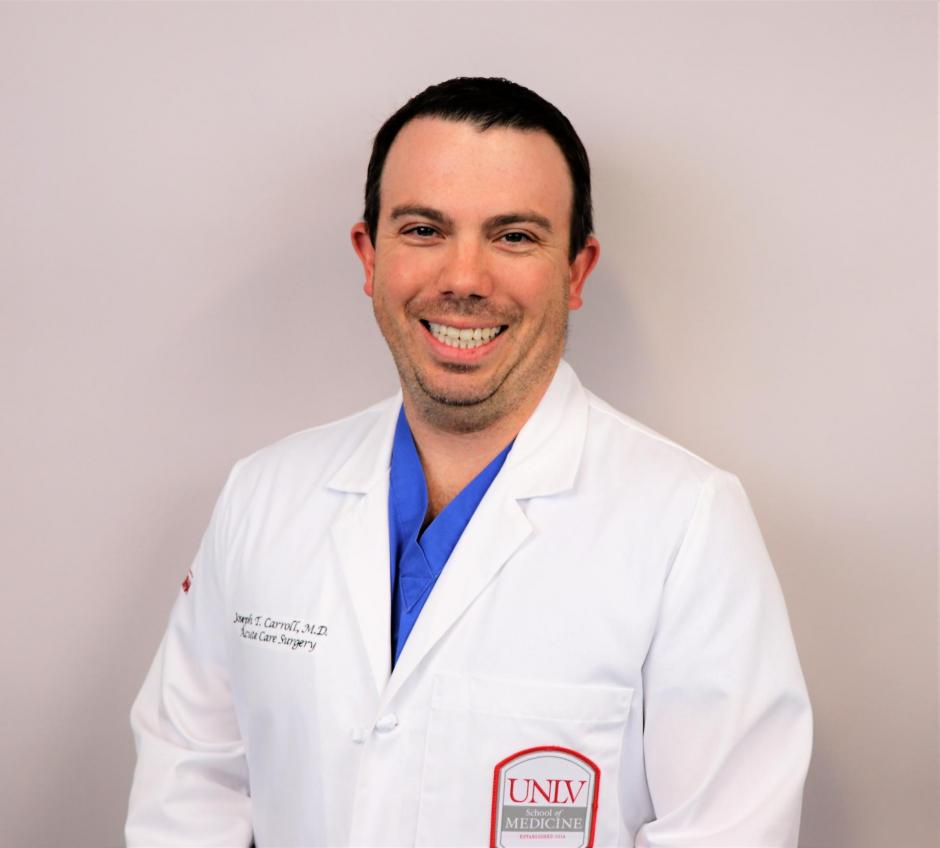 Joseph Carroll, MD
Acute Care Surgery
Dr. Carroll is originally from Scottsdale, Arizona. He received his Bachelors of Science from the University of Arizona where he double majored in Biochemistry and Molecular Biophysics as well as Molecular and Cellular Biology. He continued his education at the University of Arizona for medical school. He then moved to Grand Rapids, Michigan to complete his surgical residency. He has always had a passion for the injured patient. He followed his passion to Las Vegas where he has now completed his fellowship in Acute Care Surgery.
Dr. Carroll has received many accolades for his commitment to teaching. He was twice honored with the Resident Teacher of the Year award during his time in residency. He has accepted the position of assistant program director for the General Surgery Residency at UNLV and is excited to help guide the next generation of surgeons. During his residency he secured a grant for over $40,000 in the study of post operative pain control. He has also had multiple peer reviewed publications. His passion for evidence based practice follows him as an active member in the Eastern Association for the Surgery of Trauma where he is a member of the literature review subcommittee.
Dr. Carroll enjoys spending time with his wife who is also a general surgeon in Las Vegas and their 18 month old son Lucas. He is an avid golfer with dreams of making the senior tour. He also enjoys spending time outdoors including camping, fishing, and hiking. He is looking forward to continuing UNLV's tradition of providing Nevada's highest level of care.