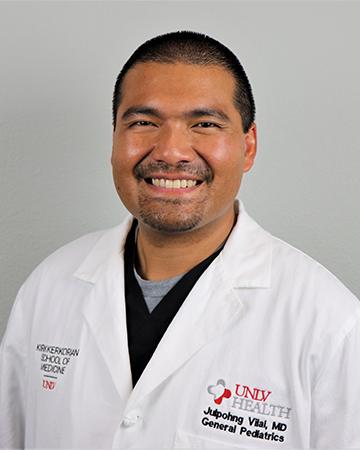 Julpohng "JP" Vilai, MD
Pediatrics
Julpohng "JP" Vilai, MD, is an assistant professor in the Kirk Kerkorian School of Medicine at UNLV Department of Pediatrics. Dr. Vilai's clinical interests include children with chronic healthcare needs, underserved populations, behavioral and mental health, transplantation medicine, telehealth, and LGBTQ+ and adolescent medicine.
A Las Vegas native and UNLV graduate who received his medical degree from the University of Nevada, Reno School of Medicine, Dr. Vilai completed his residency at MedStar Georgetown University Hospital in Washington, D.C. He was in private practice in Billings, MT, for several years before returning to his hometown.
Dr. Vilai, also a fellow of the American Academy of Pediatrics, is passionate about family-centered, evidence-based, and team-supported care.