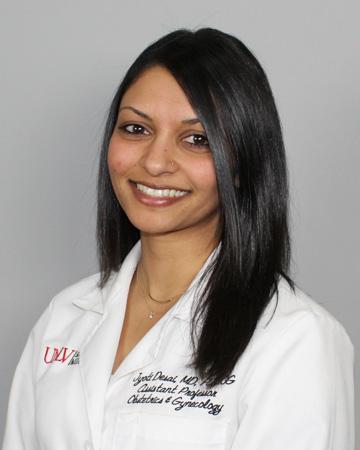 Jyoti Desai, MD
Obstetrics & Gynecology (OB/GYN)
Dr. Jyoti Desai, an assistant professor in the Kirk Kerkorian School of Medicine at UNLV Department of Gynecologic Surgery and Obstetrics, participates with Volunteers in Medicine of Southern Nevada and is also an active member of the Kirk Kerkorian School of Medicine at UNLV's admissions process.
Dr. Desai enjoys fostering strong relationships with her patients and practicing evidence-based medicine in her clinic as well as in the hospital setting.
"I became an OB/GYN because I have always been interested in women's health care and enjoy the variety this specialty has to offer, " she said. " As a generalist, I do preventative healthcare as well as gynecological care, general obstetrics and high-risk obstetric care, initial fertility treatments, family planning, minimally invasive surgery, and helping women of all ages through the different phases of their lives."
Dr. Desai describes practicing academic medicine at the Kirk Kerkorian School of Medicine at UNLV as a "perfect fit," allowing her to provide compassionate care for patients, teach medical students, and to be actively involved in the Las Vegas community.
"I genuinely care about our patients and pride myself on providing them with the best care possible. At UNLV Medicine, I can spend time with patients in the clinic and in a hospital setting, as well as teaching residents and medical students at the same time. It is very fulfilling," Dr. Desai said.
Dr. Desai received her medical degree from the University of Nevada School of Medicine Reno.