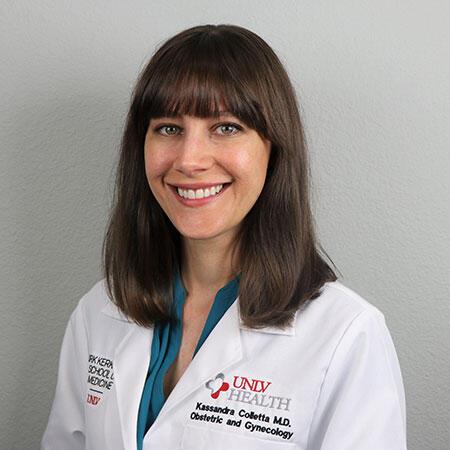 Kassandra Colletta, MD
Obstetrics & Gynecology (OB/GYN)
Kassandra Colletta, MD, who specializes in obstetrics and gynecology, is an assistant professor with the Kirk Kerkorian School of Medicine at UNLV.
Dr. Colletta graduated medical school with an emphasis in clinical ethics from the University of Nevada, Reno School of Medicine. She then continued her medical training at Kirk Kerkorian School of Medicine, where she completed her OB-GYN residency.
Education has long been a passion for Dr. Colletta. She graduated with a degree in biological sciences from Mount St. Mary's University, where she continued to work as a biology instructor at her alma mater prior to pursuing her medical training. During her residency, Dr. Colletta received multiple recognitions for her excellence in medical student education and teaching. In addition to practicing medicine, she now serves as the medical student clerkship director for the OB-GYN department.