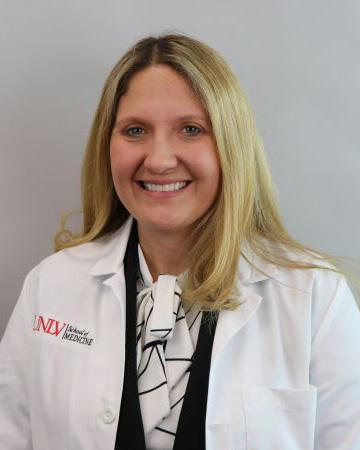 Pamela Girgis, APRN, CPMP-PC, PMHS
Pediatric Family Support Center
Pam Girgis, a UNLV Health pediatric nurse practitioner and project manager for school-based health clinics in Las Vegas, has specialized in working with uninsured children, the homeless, the sex-trafficked, and refugees, advocating for these populations through state legislatures, the media, Children's Health Fund Network and Nevada Children's Health Project.
She received her master's degree as a primary care pediatric nurse practitioner from the University of Alabama at Birmingham, where she also received a certificate of teaching in nursing and her bachelor's degree in nursing.
Girgis, who is certified as a pediatric primary care mental health specialist, has practiced evidenced-based medicine in both private and not-for-profit organizations, working to improve quality measures, health systems and processes. With Nevada Health Centers, she was the sole provider on a mobile medical van providing care to the underserved.
At Nevada State College, she taught courses to students in the bachelor of science pediatric nursing curriculum.
During her tenure at Sunrise Children's Hospital, she had clinical experience in performing primary care pediatric procedures such as suturing, stapling, derma bonding, foreign body removal, splinting, and pelvic exams.
For her work in the emergency department at Sunrise, she was named the 2010 March of Dimes Southern Nevada Emergency Nurse of the Year.
Girgis has also served as a missionary for the North American Mission Board.