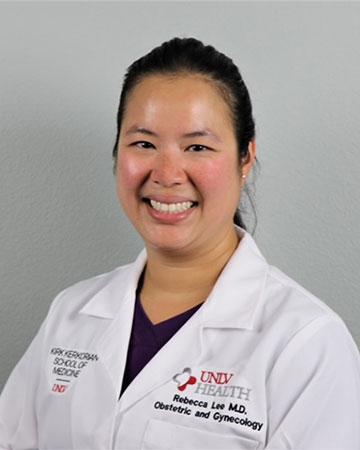 Rebecca L. Lee, MD
Obstetrics & Gynecology (OB-GYN)
Rebecca L. Lee, MD, an assistant professor in the Kirk Kerkorian School of Medicine at UNLV Department of Obstetrics and Gynecology, has a special interest in gynecologic preventive care, infertility and laparoscopic surgeries.
A graduate of Northeastern Ohio Medical University, she completed her OB/GYN residency at the Cleveland Clinic Akron General Medical Center.
Her research has appeared in peer-reviewed journals that include the Journal of Robotic Surgery and the Journal of Parenteral and Enteral Nutrition.
Dr. Lee, who completed her undergraduate work in integrated life sciences at Kent State University in Ohio, served as an active duty Air Force OB/GYN physician from 2017 to 2021, ending her military service at the rank of major. Her duty stations included Royal Air Force Base, Lakenheath, United Kingdom.
Immediately prior to joining the Kirk Kerkorian School of Medicine, Dr. Lee worked as an OB/GYN hospitalist in Gulfport, MS.
She is board certified by the American Board of Obstetrics and Gynecology and a fellow of the American College of Obstetrics and Gynecology.