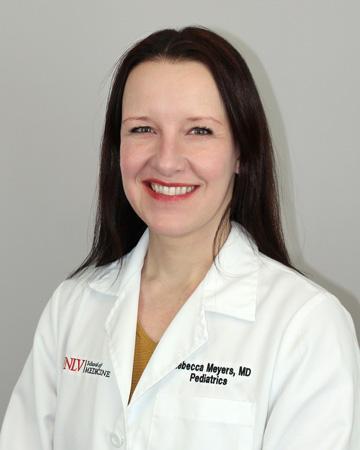 Rebecca Meyers, MD, FAAP
Pediatrics
Rebecca Meyers, MD, was born and raised in Northport, AL. She received her undergraduate degree from New York University in New York, NY, followed by a graduate degree in physical therapy at California State University, Northridge. She completed medical school at Louisiana State University Health Sciences Center in New Orleans, LA, where she was elected to the Alpha Omega Alpha honor society. She then completed her pediatric residency training at the UCLA Mattel Children's Hospital.
Dr. Meyers joined the UNLV faculty in 2017 as a general pediatrician caring for patients in the UNLV Health Pediatric Clinic. In addition, she is active in medical education, instructing resident physicians and medical students during their clinical rotations. She is also involved in medical student education as an instructor in the problem-based learning curriculum and in resident development as the director of pediatric outpatient clinic rotation. Dr. Meyers' professional interests include pediatric chronic disease and promoting healthy lifestyles for children.
In her spare time Dr. Meyers enjoys spending time with her family. She and her husband are the proud parents of two sons.