Dr. Ashley Pistorio – Carpal Tunnel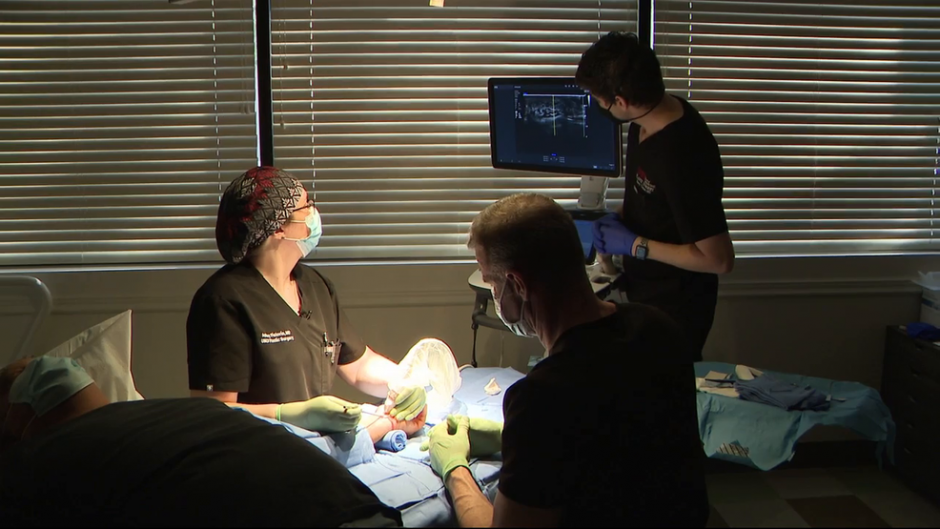 A UNLV Health doctor is now one of just over 100 across the nation offering a newer procedure to treat carpal tunnel syndrome.
Dr. Ashley Pistorio demonstrated the technique to News 3 on Tuesday morning at the UNLV Health Plastic Surgery Clinic.
It's developed by Sonex Health in Minnesota, and unlike the conventional procedure widely used across the U.S., it doesn't require an incision to open up the hand from the wrist to the center to the palm. Instead, the Sonex carpal tunnel release device is inserted into a tiny incision at the wrist and guided by Dr. Pistorio into the palm of the hand with real-time ultrasound guidance.
"I'm seeing the nerve and all of the structures as if it was a fully open procedure," Dr. Pistorio said as she watched the ultrasound screen during the surgery.
Dr. Pistorio is so confident in this technique that she chose it when she was diagnosed with carpal tunnel syndrome, which could have ended her career as a surgeon.
"I got the surgery on myself – bilateral [both] wrists about six weeks ago now," she said.
Her recovery time was days instead of weeks, which would be typical for the conventional open procedure.
"This surgery allowed me to go right back to work, like the next day, and back to doing surgeries five days later," she said.
Dr. Pistorio's patient on Tuesday morning said he did a lot of research before deciding on a procedure. After considering all of the factors, including cost and recovery time, Byron Kashiwamura his decision was easy.
"I looked at the pros and the cons," Kashiwamura said. "You have to go with this technique, I mean, really. I went for this technique to the other one. Period."
Another positive over conventional carpal tunnel surgery, says Dr. Pistorio, is that it doesn't require sutures because the incision is so small. But the list doesn't stop there.
"The big advantage for my standpoint is obviously cost being able to do it in-clinic," she said.
That means the more expensive surgical facilities aren't needed, and those lower medical costs result in savings to patients.
"It's a huge deal for UNLV just because of the patient population we take care for. I take all comers, and we try to make it feasible for folks to afford it, who otherwise wouldn't be able to," Dr. Pistorio said.
Studies show the newer technique is showing at least an equal outcome when compared to the conventional. Dr. Pistorio says Harvard is among the medical facilities looking at the ultrasound-guided technique versus the more commonly-used technique.
Pistorio says she also will head up a national clinical trial starting early next year, which will hopefully result in this technique becoming more widely used in a clinic setting, giving the millions with carpal tunnel another option that offers lower cost and shorter recovery time.