Dr. John Fildes' Lifelong Commitment to Serving Southern Nevada Continues After Retirement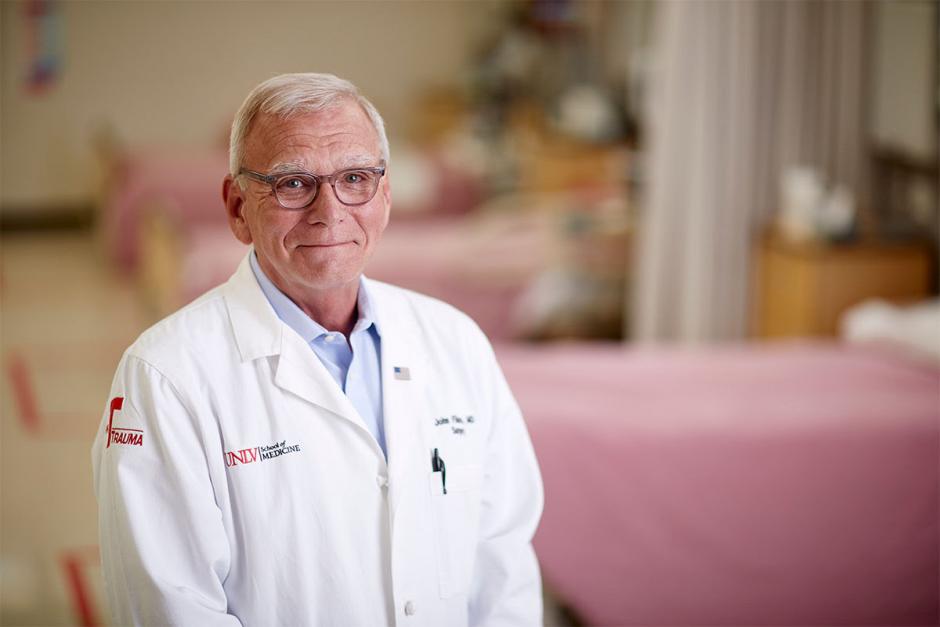 Even if Ben Franklin, one of the nation's Founding Fathers who seemed capable of doing almost everything to enhance the common good – from helping draft the Declaration of Independence to inventing the flexible catheter – could have broken the time barrier to share his wisdom with Americans of every generation, there would have been no need for him to share one of his most important observations with John Fildes: "By failing to prepare, you are preparing to fail."
Born in the Hudson River Valley area of New York, the son of an IBM engineer appears to have come out of the womb recognizing the importance of preparation.
"I decided very early on…around the age of eight…after a few injuries and illnesses, that I wanted to be trained in medicine – that I had to learn a body of knowledge that was large and complex," John Fildes, MD, said as he went down memory lane.
Nearly 60 years have passed since Dr. Fildes – he's now the inaugural chair of the Kirk Kerkorian School of Medicine at UNLV Department of Surgery and associate dean of external affairs at the school – began his preparation for a life in medicine. That professional life, which saw him become a respected international figure in trauma care, where preparation is the key to a medical discipline where every second counts, is about to go the way of emeritus status.
On May 2, his 67th birthday, the man who served as interim dean of the medical school from September 2019 through April 2020 after founding dean Dr. Barbara Atkinson stepped down, will retire. For more than 20 years, he served as medical director of the trauma center at UMC, the medical school's chief training hospital: "I saw medicine as the intersection between science and human service."
As you might expect, given his penchant for preparation, his retirement means looking to the future for both the medical school and his personal life. Wanting to help grow surgery in Las Vegas so people never have to leave Southern Nevada for medical care – in 2008 he established the first American Association for the Surgery of Trauma approved fellowship in the Acute Care Surgery – he's now created an endowment fund with a $100,000 contribution that will each year provide an award for a top surgical resident and also provide funding for an annual appearance by a recognized surgical expert who will deliver a lecture and engage in academic activities with residents and faculty.
In his own life, he recently had a knee replacement so he can go, without pain, to fly fish around the world, to visit his three children and grandchild in Arizona and South Carolina, and to hunt ducks and pheasants in Utah and South Davoka. He's also got his tools together to bring a 1969 Jaguar back to life and set up a room in his Las Vegas home where he can play the guitar and banjo, tie flies for fishing, and ready his photography gear that will capture his globe-trotting.
"You have to prepare for retirement just like anything else," said Dr. Filldes who still receives emails and visits from patients whose lives he's saved. "I'll also stay abreast of the latest in medical care because I look forward to working with students."
An honors graduate of Union College in Schenectady, NY, Dr. Fildes majored in biomedical engineering. While there, he worked at a local hospital as an orderly, pathology aide, and EKG technician. That experience laid the groundwork for his interest in surgical critical care, in trauma medicine. He saw people die from car wrecks or burns from industrial accidents that he was sure could have been saved had the hospital been prepared with the proper acute care.
"The patients didn't get what they deserved," Dr. Fildes said. "The preparation just wasn't there."
After graduating with high honors from the medical school at the University of Santo Tomas in the Philippines, he completed a residency and fellowship in general surgery at Bronx-Lebanon Hospital in the Bronx, NY, and a fellowship in surgical critical care, burns, and trauma at Cook County Hospital in Chicago. Both hospitals deal with a huge volume of patients who are crime victims, often arriving in critical condition from shootings or stabbings.
"It was unbelievable what we saw there," said Dr. Fildes, an American College of Surgeons Fellow since 1990. "I found that I was good under pressure, that I was making a difference in people's lives."
He became so respected for his trauma work in Chicago in the '90s that he became president of the Chicago Metropolitan Trauma Society and earned leadership positions with the Metropolitan Chicago Chapter of the American College of Surgeons. His research there on shock and treatment of hypothermia included publications in the highly respected Journal of Trauma and the American Journal of Trauma.
Dr. Fildes' stellar work in Chicago led in 1996 to his move to Las Vegas as director of the UMC Trauma Center. UMC is Nevada's only Level 1 Trauma Center, only pediatric trauma center, and the only burn center approved by the American Burn Association. "I worked hard to show people I was the right person to do the job," he said.
Under his guidance, UMC has become a national leader in trauma care. Of those who arrive alive at the trauma center – many have less than a 1 percent chance to live – a remarkable 96 percent survive and are discharged.
"I looked for surgeons who exhibit grace under pressure, who are able to operate and lead medical teams under uncertain conditions," said Dr. Fildes, who has served as a consultant to American surgeons working on soldiers wounded in Afghanistan and also embedded active duty military resident physicians into general surgery and emergency surgery residencies at the Kirk Kerkorian School of Medicine.
Given his success in Chicago and Nevada – when Fildes came to the Silver State, he was collecting trauma data and teaching advanced trauma life support at the Las Vegas campus of the University of Nevada, Reno School of Medicine – the American College of Surgeons placed him on its evolving National Trauma Data Bank Committee.
In the wake of the 9/11, 2001 terrorist attacks on the U.S., Dr. Fildes' work with the trauma data bank became nationally recognized. After he and other members of the data bank committee were called to testify before the U.S. Senate, he was instrumental in starting a process of gathering information on the nation's trauma centers, finding out just what they were capable of.
"It informs policymakers in real-time what is occurring in the United States," said Fildes, who became the American College of Surgeons Committee on Trauma National Chair in 2006. "Without information, you can't plan…can't prepare…we need to build systems of care based on data…even the wearing of motorcycle helmets is based on data sets." Fildes contributed heavily to trauma research, with his work appearing in 68 peer-reviewed publications.
On 1 October, 2017, when a gunman opened fire on the Strip, killing 60 people and wounding 411 others, the reason for Dr. Fildes' lifelong commitment to preparation couldn't have been more evident.
The injured poured into UMC with single and multiple gunshot wounds to the chest, body, head, and face. Workers rolled wheelchairs and gurneys outside so they wouldn't take up valuable space inside, a practice learned in a training session that took place after the 2016 Orlando Pulse nightclub shooting that killed 49 people and wounded more than 50 others. Areas throughout the hospital were set up to receive patients, a lesson that came from another 2016 training session that was an outgrowth of a November 2015 Paris attack by terrorists where 130 people were killed and hundreds of people were wounded.
"We've been rehearsing these disasters and anticipating not if, but when it happens," Dr. Fildes said in the days after the 1 October shootings. "We trained our staff to be constantly ready for that day, and sadly, that day occurred on October 1."
President Trump came to Las Vegas and commended Dr. Fildes and his surgical team for their medical care of the wounded. UMC CEO Mason VanHouweling noted that "as a result of Dr. Fildes' commitment to preparation…every single patient who entered UMC with a pulse that night survived." And Ian Weston, then executive director of the American Trauma Society, delivered the succinct kind of praise for the medical teams' preparation that Dr. Fildes has never gotten tired of hearing.
"They practiced," Weston said. "They were ready."