Family Medicine Clinic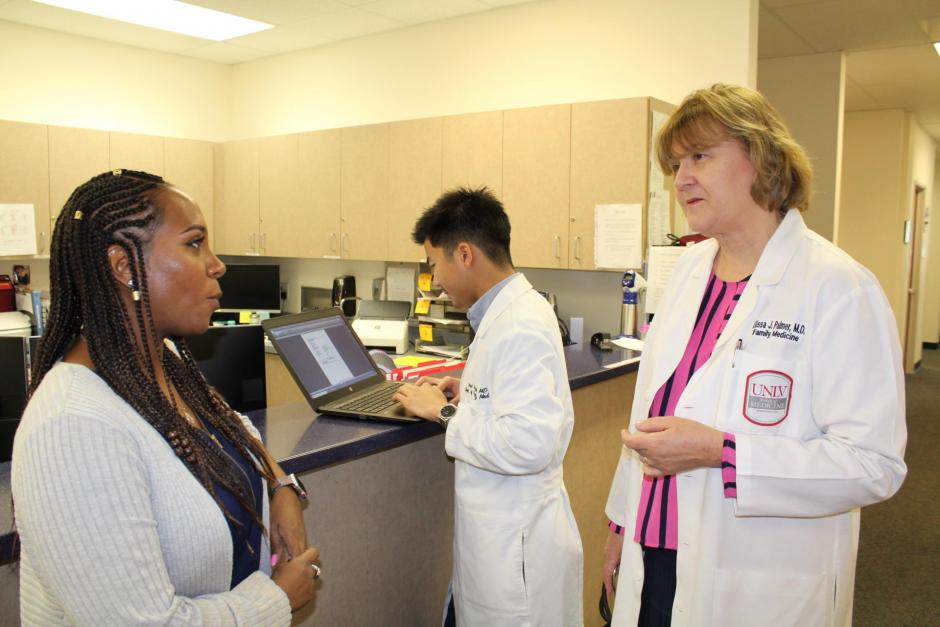 UNLV Medicine Family Medicine Providing Wide Range of Services
The UNLV Medicine Family Medicine Clinic handles around 11,000 patient visits per year, including expectant mothers, children, adults, and the elderly, as well as the Golden Knights and Aviators.
The UNLV Family Medicine Providing Wide Range of Services | News Center | University of Nevada, Las Vegas
more you talk with Dr. Elissa Palmer, the inaugural chair of the UNLV School of Medicine Department of Family and Community Medicine, the more respect you develop for family medicine specialists. They undergo three years of training in six major medical areas: pediatrics, obstetrics and gynecology, internal medicine, psychiatry and neurology, surgery, and community medicine.
A member of the American Academy of Family Physicians, Palmer also notes that these primary care specialists receive instruction in many other areas, including orthopedics, otolaryngology, urology, geriatrics, emergency medicine, ophthalmology, and dermatology.
"We offer comprehensive medicine for patients of all ages," said Palmer.
The UNLV Family Medicine Clinic handles around 11,000 patient visits per year, including expectant mothers, children, adults, and the elderly. Also under its health care umbrella is the UNLV Sports Medicine Center, whose doctors also treat members of the Vegas Golden Knights hockey team and the new Las Vegas Aviators Triple A minor league baseball club.
No doubt about it: The breadth of what transpires through UNLV Family Medicine is remarkable.
In addition to treating and diagnosing illness, UNLV physicians provide preventive care, including routine checkups, physicals, health-risk assessments, immunization and screening tests, and personalized counseling on maintaining a healthy lifestyle. They also manage chronic illness, often coordinating care provided by other subspecialists. From diabetes, cancer, and asthma to hypertension, stroke and heart disease, UNLV family physicians provide ongoing personal care for the country's most serious health problems, referring patients when necessary to another specialist for treatment.
Palmer stresses that newly minted doctors are able to pursue graduate medical education residency training through UNLV Family Medicine. Two separate family medicine residencies are administered, including the first year of a rural family medicine residency that takes place in Las Vegas, with the following two years in rural Winnemucca.
A sports medicine fellowship — it provides 12 months of training in muscle and bone injuries, exercise physiology and medical conditions specific to athletes — is also offered to highly qualified physicians. It gives fellows the chance to treat UNLV Division 1 athletes.
Community involvement is a hallmark of the UNLV Family Medicine team.
"We're very involved in the healthcare of Las Vegas, with our work spread throughout the community," said Palmer, who has published articles in journals that include Academic Medicine, the Journal of Genetic Counseling, and Physician Leadership Journal.
Faculty and residents volunteer at community health fairs and flu shot clinics, provide high school physicals, and participate in the monthly Walk with a Doc program, which reinforces the benefits of exercise.
One to two times a month, UNLV physicians and residents join the Volunteers in Medicine Clinic on the east side of Las Vegas. There, individuals without insurance can be seen by a physician and receive laboratory test results and prescriptions free of charge.
Grants have made it possible for the family medicine clinic to offer cancer screenings for those exposed to radiation during nuclear bomb testing while living near or working at the Nevada Test Site. Through grants, clinicians have also provided screenings of Nevada Test Site workers for disease related to occupational exposure to hazardous materials.
Palmer, who has received grants to study obesity and osteoporosis within the family medicine framework, has trained hundreds of healthcare providers both in southern and northern Nevada in the tenets of the Advanced Life Support in Obstetrics program, which equips the entire maternity care team to effectively manage obstetric emergencies.
Today, perhaps more than ever, Palmer is a true believer in the specialty of family medicine, which was created in 1969 in response to the growing level of specialization in medicine. Families, she notes, enjoy having a single point of contact for all medical visits, as well as the convenience that a specialist in family medicine offers.
Adults who are caring for children or aging parents can schedule multiple appointments at the same time. And for teenagers who have outgrown their pediatrician, a specialist in family medicine is a great primary care option.
"Family medicine specialists are trained to be able to deal with the entire spectrum of issues that might be encountered by the members of a family unit," Palmer said. "They get to know a family and people appreciate that."
For Family Medicine appointments: (702) 660-UNLV