Former UNLV Medicine Fellow Joins Faculty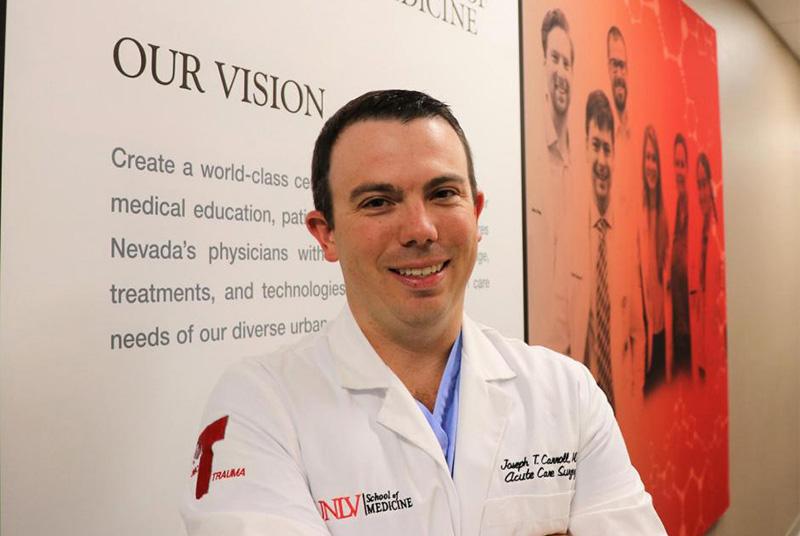 Dr. Joseph Carroll says the opportunity to be part of the medical
school's team at the UMC Trauma Center was too good to pass up.
It was when he was in the seventh grade that Dr. Joseph Carroll, now an assistant professor in the UNLV School of Medicine's department of surgery, first thought about becoming a physician.
"I was in science class and we were learning about fevers and why your body does this," he said. "I found it fascinating and ever since then all I wanted to do was learn about how the body worked."
Born and raised in Scottsdale, Arizona, Carroll was in high school when he first got to shadow physicians at the Mayo Clinic's Arizona campus.
"My mom was in charge of catering there and I found it exciting to see how doctors could make people feel better."
Following graduation from the University of Arizona, where he was named Galileo Circle Scholar as the university's outstanding undergraduate researcher, Carroll attended the university's medical school. It didn't take him long to decide he wanted to be a surgeon.
Choosing Surgery
"I was in awe of how doctors could take someone with a real problem and fix them so they could walk out of the hospital far better off. That opportunity and responsibility was the greatest honor I could think of both then and today."
He completed a residency in general surgery through Michigan State University but felt a need for more training to practice trauma surgery at the highest level. He decided the UNLV School of Medicine's Acute Care Surgery Fellowship, the first program of its kind in the nation, would help him gain the expertise he wanted.
The demand for such fellowships has grown as the demands on trauma surgeons have expanded. Surgical emergencies that used to be handled by specialists in plastic, gastrointestinal, thoracic, or general surgery are now frequently performed by trauma surgeons.
Today, a study of nearly 100 U.S. academic medical centers shows that trauma surgeons perform a variety of urgent procedures, including gallbladder removal, spleen repair and removal, and hernia repair. In addition to operating room surgeries, trauma surgeons often perform bedside procedures such as placing drainage tubes in chests or catheters in veins.
October 1
In the wake of the Oct.1, 2017, mass shooting on the Strip that killed 58 and wounded more than 800, Carroll was called into action and saw his efforts become the subject of media reports.
"I came in early that morning. I helped in the ICU and did many of the definitive operations that those patients required. It's never something that you want to go through, but what I learned then is something that I will certainly carry with me for the rest of my life," he said. "What really struck me as a new Nevadan was how much the whole community came together…People were bringing food for us from all over. We showed we are so much more than just a place to have a bachelor party. We are a community."
The young surgeon is also an accomplished researcher, with his work appearing in peer-reviewed publications that include the World Journal of Surgery and the American Journal of Surgery.
The Fildes Influence
Carroll refers to Dr. John Fildes, who recently took over as interim dean of the school, as his mentor. The keynote speaker during the recent 48th World Congress of Surgery in Poland, Fildes received approval in 2008 to establish the acute care surgery fellowship at UMC.
"Dr. Fildes (who was the inaugural chair of the medical school's surgery department) is the ultimate gentleman surgeon," said Carroll. "He always maintains grace under pressure. He takes time to teach everyone. His mastery of surgical knowledge — he's one of the best surgeons I've ever seen — is presented with patience and respect. On Oct.1 he remained calm. When your leader reacts that way, everyone else does, too. I've been very fortunate to learn from him."
The opportunity to be part of the UNLV trauma team at the UMC Trauma Center — patients who arrive alive within an hour of a traumatic incident have a 96 percent survival rate — has had much to do with Carroll's decision to remain in Southern Nevada.
"To have the privilege to be part of such a magnificent trauma team is a dream come true, Carroll said. "Watching patients walk out of the hospital alive is what keeps me going. It's such a wonderful feeling to be able to tell families their loved one will be OK."
For Surgery appointments: (702) 660-UNLV