How To Safely Celebrate Thanksgiving During a Pandemic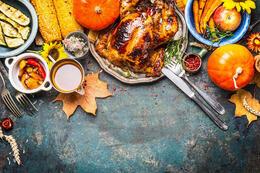 The founding dean of UNLV's School of Medicine, Barbara Atkinson recommends
observing the holiday virtually this year to help keep loved ones well.
It's a question millions of Americans are asking as the COVID-19 pandemic continues to spread disease in the United States: What kind of Thanksgiving celebration can we have this year?
Needless to say, the safest course is to celebrate with your household alone, with people you know for sure are free of the virus. Yes, you have wonderful memories over the years of inviting extended family and friends to holiday festivities, of opening your home to anyone who wants to attend, but we weren't then dealing with a global pandemic that's taken the lives of 225,000 Americans and 1.1 million people worldwide.
Dr. Barbara Atkinson, founding dean of the UNLV School of MedicineNow more than ever, patience, as we teach our children, is a virtue. Delayed gratification during this difficult time can literally mean the difference between life and death. Next year, hopefully when vaccinations against the disease take hold, we can get back to a sense of normalcy.
Still, if you're going forward with a Thanksgiving celebration where people will be on hand who are not in your immediate nuclear family, there are ways to make it as safe as possible. Always keep in mind that the guidance you've heard from public health officials for months still applies: The fewer people on hand, the better.
When you're with people who are not in your household, it's safest to wear a mask and keep at least six feet apart. Outside is generally safer than inside. Because of Southern Nevada's warmer climate, that means it's better to set up your feast outdoors — and to space people out. When food and drink aren't being consumed, ask that masks stay on. Common areas like bathrooms should frequently be wiped down with disinfectant.
If older people and those who are at high risk with health problems are at the dinner, seat them in areas where they can more easily keep a distance from, say, grandchildren, who may be asymptomatic but can spread the disease. A kids' table would be a good idea for the little ones.
Advice from Fauci
Dr. Anthony Fauci, director of the National Institute of Allergy and Infectious Diseases at the National Institutes of Health, suggests that as difficult as it may be emotionally to do, it would be wise not to have "someone who's a combination of elderly and immunosuppressed with significant underlying conditions" at the celebration.
"I'd be very careful about having that person in a gathering where there are a lot of people, even with masks," Fauci said in a recent interview with a national media outlet.
If you must have the gathering inside and don't have a lot of space, try to keep the group small enough so you can space people out. Don't forget that being close to others is the highest risk of spreading the infection — with touching common surfaces right behind. If possible, open windows in your home for greater ventilation. It would be best to use disposable tablecloths and tableware to make cleanup easier; this way surfaces can be disinfected more easily.
Good hygiene, which is always important, is even more imperative during a celebration during the pandemic. Wash your hands frequently. Avoid sharing utensils, drinks, or food because exposure to saliva can spread the virus.
None of us, of course, wants to cut short the lives of those we love because we weren't careful enough this Thanksgiving. Actually, the more I think about it, the more I think a large virtual celebration — with members of extended families still eating in their own homes — is a good idea.
Zooming what's happening in our loved ones' homes at Thanksgiving this year would give us even more to talk about at this time next year.
And then we could give thanks for caring so much about each other.