Internationally Known Trauma Surgeon Begins Work as School of Medicine Dean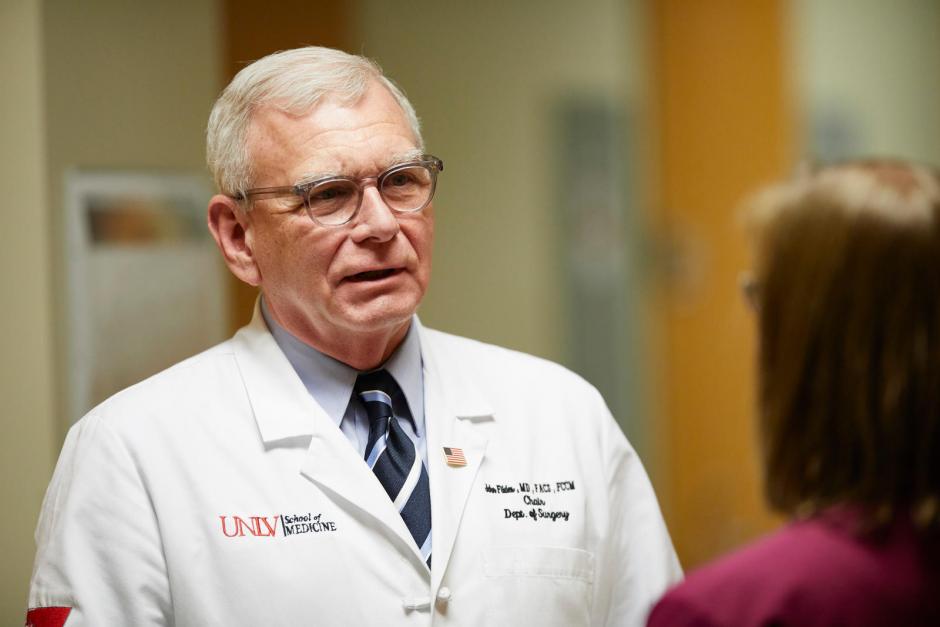 Dr. John Fildes continues the vision for establishing UNLV's academic medical center.
In August, just days after being named interim dean of the UNLV School of Medicine, Dr. John Fildes was before a gathering of the world's best surgeons, delivering a keynote address on handling mass casualty situations. It's a topic with which he is all too familiar.
Fildes was the coordinator of medical response to the Oct. 1, 2017, mass shooting on the Strip that killed 58 people and injured more than 800. He told the physicians at the 48th World Congress of Surgery in Krakow, Poland, that it wasn't a question of if they would have to deal with a multiple casualty incident, but when.
The longtime medical director of University Medical Center's Trauma and Burn centers urged those in attendance not only to prepare for such tragedies, but also to practice a well-thought plan on a regular basis.
The conference provides an opportunity for surgeons around the globe to work together toward real-time, patient-oriented solutions and to learn from leaders in their field.
The day before Fildes left for the conference, he was named interim dean of the UNLV School of Medicine by UNLV President Marta Meana. "John is an exceptional leader and brilliant physician and he has been a key member of (founding Dean Barbara Atkinson's) team since day one," she noted. Fildes has been serving as the school's inaugural chair of the department of surgery. "He (has been preparing) our state's future doctors with the knowledge and skills to help the most critical of patient needs. Our school of medicine is in very good hands."
Mason VanHouweling, CEO of UMC Hospital, called Fildes "the perfect choice," citing both mentorship of future health care practitioners and his calm management during a harrowing experience. "His unparalleled leadership skills played an instrumental role in UMC's successful response to the deadliest mass shooting in modern American history. As a result of his commitment to preparation and excellence, every single patient who entered UMC with a pulse that night survived," he said.
Under Fildes' leadership, UMC, the main training hospital for the UNLV School of Medicine, has become a leader in trauma medicine. Of those who arrive alive at the trauma center — many have less than a 1 percent chance to live — 96 percent survive and are discharged.
He also established the nation's first acute care surgery fellowship at UMC and says UNLV is becoming known as a superior training ground for top surgeons of the future. "I look for surgeons who exhibit grace under pressure, who are able to operate under uncertain conditions."
A true believer in academic medicine — where research gives birth to cutting-edge surgical techniques and other breakthroughs — Fildes' research has appeared in 64-peer-reviewed publications, including the American Journal of Surgery, the Journal of Trauma and Acute Care Surgery, Critical Care Medicine, Academic Emergency Medicine, Plastic and Reconstructive Surgery, Journal of Surgical Research, and Cancer Medicine Journal.
"I am honored to champion Dean Atkinson's vision for the school going forward," he said. "Under her leadership, we are indeed creating a world-class center of excellence and innovation for medical education, patient care, and research — a school that prepares Nevada's physicians for serving the health needs of our diverse urban community. I will carry that vision forward 110 percent."
With the School of Medicine's critical influence, he hopes to see growth in the specialty fields available in the community and the development of a liver transplant center and comprehensive surgical oncology treatment for cancer, and expansion of pediatric surgery — "the kind of things people now have to leave Las Vegas for," he said.
Building His Career
It was in elementary school that Fildes first thought about becoming a doctor. What other third graders took for granted — you went to a doctor to get well if you were sick or injured — caused 8-year-old John Fildes to ask a question: How do you become a doctor?
He wanted to know how he, too, could one day make people feel better.
"I decided very early on, after a few injuries and illnesses, that I wanted to be trained in medicine — that I had to learn a body of knowledge that was large and complex," said Fildes, whose father was an engineer with IBM in Poughkeepsie, New York. "A lot of kids wanted to be astronauts with NASA back then. I wanted to work in human service."
An honors graduate of Union College in Schenectady, New York, Fildes majored in biomedical engineering. While there, he worked at a local hospital as an orderly, pathology aide, and EKG technician. That experience laid the groundwork for his interest in surgical critical care. He saw people die from car wrecks or burns from industrial accidents that he was sure could have been saved had the hospital been better prepared.
"Those patients didn't get what they deserved," said Fildes, who has been a Fellow of the American College of Surgeons since 1990.
After graduating with high honors from the medical school at the University of Santo Tomas in the Philippines, he would complete a residency and fellowship in general surgery at Bronx-Lebanon Hospital in New York and a fellowship in surgical critical care, burns, and trauma at Cook County Hospital in Chicago. Both hospitals deal with a huge volume of patients who are crime victims, often arriving in critical condition from shootings or stabbings.
Fildes' stellar work in Chicago led to his move to Las Vegas in 1996 as director of the UMC Trauma Center. UMC is now Nevada's only Level 1 Trauma Center, only Pediatric Trauma Center, and only Burn Center.
At a recent meeting of the American College of Surgeons in San Diego, UNLV trauma surgeon Deborah Kuhls spoke about Fildes' leadership. She said he has found ways for staff to use every possible area of the hospital to quickly treat patients, such as turning the ambulatory surgery unit into another emergency room.
Fildes' goal now is simple: "To make the UNLV School of Medicine enormously successful," he said. "I plan to do that carefully, through managing our growth, ensuring the best education for our students and residents."