Nurse Practitioner Improvises as She Earns Doctoral Degree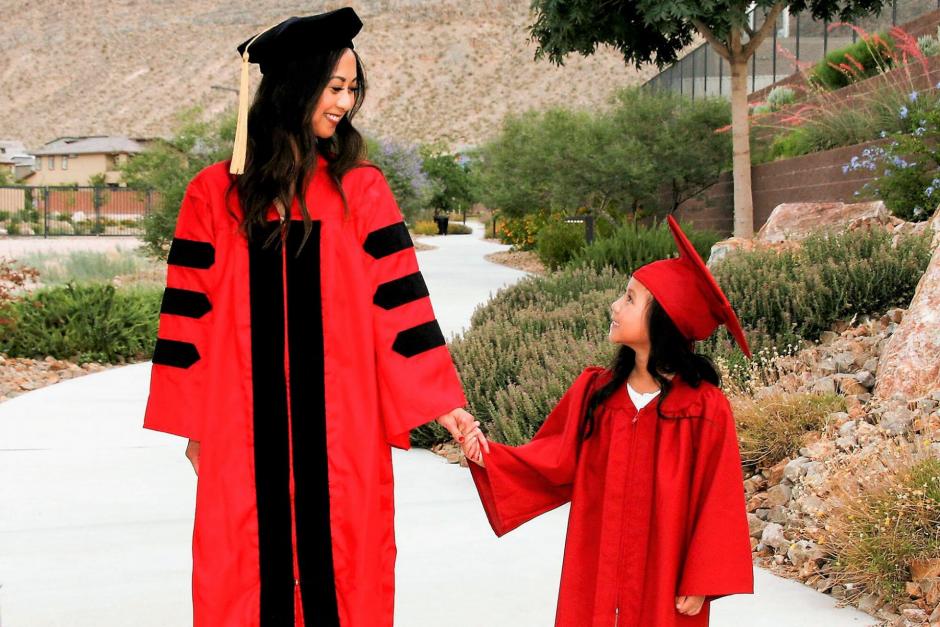 Dianne Galgana focuses on well-child care and management of common pediatric acute illnesses.
You look at a photograph of UNLV Medicine pediatric nurse practitioner Dianne Galgana and her daughter, Penelope, both dressed in red graduation regalia, and you can't help but be reminded that a single image can carry a lot of power.
There's pure joy in the photos. Pride of accomplishment. Love for each other. Love for life.
It doesn't even seem too much of a stretch to suggest that the captured smiles of both mother and daughter display an awareness of a simple fact: Education can make dreams a reality.
As wonderful as the pictures taken by a cousin are, keep in mind they were an improvisation, one that made sense when COVID-19 wiped out Galgana's spring graduation at the University of Cincinnati.
Galgana had done her studies largely online but had been planning to walk down the aisle to receive her doctor in nursing practice (DNP) degree with Penelope walking alongside her in a robe she received when graduating from kindergarten. That undoubtedly would have made for memorable candid photos had it not been for the novel coronavirus.
"I've wanted to make the point to my daughter that education is a key to life no matter what stage of life you're in," Galgana said. "I think I've still been able to do that. We've talked a lot about it."
Well aware, of course, of how COVID-19 has upended and taken lives, Galgana is by no means equating the cancellation of a graduation to the human tragedies unfolding every day in the U.S. She's just reflecting on what we all know — in so many different ways, COVID is changing lives, forcing us, among other things, to forge new types of positive memories for long-held traditions.
No whining
Positivity, competence, caring, learning, teaching, and hope, she said, are important parts of both her life and work. Don't whine. If a detour is necessary, take it. But remember your mission: A purposeful happy life and providing the best available health care for people. "I never forget that I have the privilege to help the underprivileged. My parents taught me that."
She grew up in San Diego, the daughter of a Filipino military family that emigrated from the Philippines. A first child whose father often would be at sea for six months at a time, Galgana found herself regularly taken to the naval base urgent care by her mother. "If I had a runny nose, my mother would take me — she wanted to do the right thing. As far as I can remember, I recall my paper medical record compilation comparable to the size of an encyclopedia."
It was because of the medical professionals at the San Diego naval base that she knew she wanted to go into nursing.
They made her feel as though she were family. They could communicate with both parents and children. "They made people feel better by the way they talked with them, by removing anxiety with their empathy and care." While she heard from other children they feared going to the doctor, she didn't. "My ambition was to acclimate comfort and positiveness for children and their parents when setting foot into a health care setting."
After her father retired from the Navy, Galgana, her sister and parents moved to Las Vegas. In 2009 she received a bachelor's degree in nursing from UNLV. For a couple years, she worked with the Southern Nevada Health District as lead registered nurse medical screener and vaccinator for the 2009 H1N1 pandemic. During the next 10 years, she either worked with cardiovascular patients and infants at Sunrise Hospital & Medical Center/Sunrise Children's Hospital or with children at Sunrise Pediatrics.
She loves to see a child overcome a health challenge. "It is super satisfying. It is a feeling I cannot describe completely when I see them at their follow-up visit. However, it is even more satisfying to have the parents see their child overcome a health challenge. Their anxiety level goes way down."
Galgana did graduate work in nursing to stay abreast of modern evidence-based developments in health care and to develop a leadership influence among other providers and patients. "It wasn't easy to do — being a single parent working full time and attending graduate school really tests you. But I really felt it was important for me to be at the forefront of the ever-changing landscape of the health care industry."
Promoting breastfeeding
Currently, she is focusing on well-child care, prevention, and management of common pediatric acute illnesses and also educating parents on plans of care. She applies evidence-based practices, such as breastfeeding interventions, to promote healthier lives.
A certified lactation consultant who emphasizes that awareness and implementation of lactation programs in Las Vegas can mean happier, healthier children in Southern Nevada, Galgana can recite chapter and verse the benefits of breastfeeding for both babies and mothers. Infants have less illness overall as they develop stronger immune systems from mother's milk. What breast milk provides includes abundant and easily absorbed nutritional components, antioxidants, enzymes, immune properties, and live antibodies that can carry on into adulthood.
Studies also show, she pointed out, that breastfeeding is healthier for moms physically. It promotes faster weight loss, stimulates the uterus to contract and return to normal size, and means less postpartum bleeding, fewer urinary tract infections, and less chance of anemia. Many feel affectionate bonding during the first years of life reduces social and behavioral problems in both children and adults. Most importantly, breastfeeding promotes a significant decrease in risk of postpartum depression, and breast and ovarian cancers for these mothers, she said, adding that not too many mothers know that.
"We need to get more advertising out, more public health messages out for breastfeeding," she said. "We need to really communicate with mothers, and not lecture or be judgmental. Just let them come to realize themselves that the evidence is clear — breastfeeding is good for the baby AND their mother."
Non-judgmental communication is also helpful in overcoming some parents' positions against vaccinations, she said.
"You have to really listen to their concerns and provide them with material in such a way that they'll understand vaccinations are good for their babies. People want to do the right thing for their babies. How you talk with people is really important."
In the end, caring, Galgana said, is the most important tool a nurse has. "A great nurse is caring. Caring makes all the difference to patients. It significantly impacts positive health outcomes. A great nurse is also understanding, non-judgmental, empathetic, and committed to patient advocacy."