Patient's Experience with UNLV Health 'Couldn't Have Gone Better'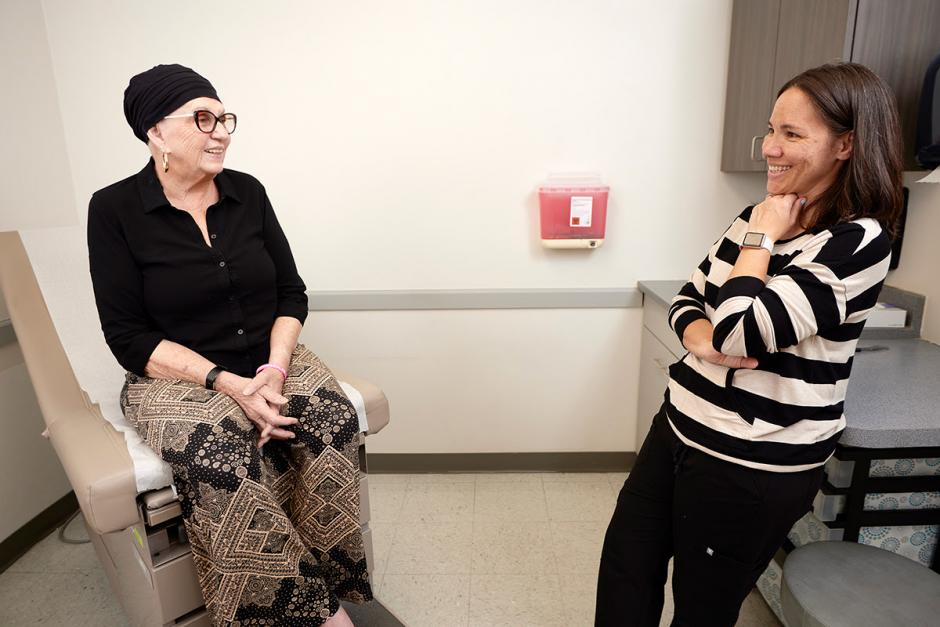 Throughout treatment for breast cancer, Cornelia 'Connie' Jackson found Jennifer Baynosa, MD, and the UNLV Health General Surgery Clinic staff to be 'so caring and so professional.'
Between 2009 and 2022, Cornelia "Connie" Jackson had three abnormal mammograms. The nagging worry that accompanied the first two – both turned out to be false alarms – was practically nonexistent by the time she was told last year she needed another follow-up exam.
"I thought so little of it that I went on a vacation to Greece," says the 80-year-old widow who proudly talks of her two children, five grandchildren, and seven great grandchildren.
In January, however, when she was called back for a follow-up mammogram, a radiologist interpreting the test found a biopsy warranted. In February, Jackson had the procedure that removed a small amount of tissue from her left breast.
"I still thought, maybe wishful thinking, that there would be nothing to it again," says Jackson, who has lived in the Sun City Summerlin retirement community since 2010.
But not long after the biopsy, her primary care physician delivered the bad news. She had breast cancer, one of an estimated 297,790 women expected to be diagnosed with invasive breast cancer in 2023. While breast cancer statistics show there are more than 4 million breast cancer survivors in the United States, an estimated 43,170 women will die this year from the disease, the most common cancer among American women after nonmelanoma skin cancer.
Referrals for Jackson's treatment were made by her primary care physician to cancer specialists covered by her insurance – an oncology center and Jennifer Baynosa, MD, a UNLV Health surgeon and an associate professor of breast oncology surgery at the Kirk Kerkorian School of Medicine at UNLV.
"If it hadn't been for Dr. Baynosa's help, I'm not sure what I would have done," says Jackson. "She and her staff did everything she could to ensure that I got what I needed. It's not easy to navigate the health system by yourself … I really didn't know who to see first."
Jackson said repeated calls to the oncology center for an appointment were unsuccessful. Soon after calling Dr. Baynosa's office, a staffer called her back and she had an appointment. "Everything was so professional and so caring. The whole staff comes across as really working for you. I'm not used to that."
At the initial appointment with Dr. Baynosa, Jackson said she learned that the biopsy revealed she had triple negative breast cancer, a rare type of aggressive breast cancer that accounts for 15 percent of all breast cancer cases. "I wasn't supposed to go to the surgeon first, but it worked out well for me."
"Dr. Baynosa didn't sugarcoat things … she said we needed to get on with chemo, surgery, and radiation, in that order, as quickly as possible … she texted an oncologist to take my case."
Once again Jackson had challenges with the oncology office staff in repeated calls. "I called them once a day for 10 days, and they wouldn't call me back. I finally had to cry to get an appointment … then later they said they didn't have a doctor that day, and I cried, and they said they'd call the doctor to come in. And he did."
Chemotherapy didn't go well. After her first session in April, she ended up in Mountain View Hospital for four days. "My white blood cell count was so low I couldn't fight off infection."
Another chemotherapy session in May ended with her in the hospital for nine days with an infection and also on IV antibiotics at home for seven days.
"My oncologist said I wasn't strong enough for any more chemo," Jackson says. "He said I had to go straight to surgery."
Within four days, Dr. Baynosa's office called to say she had a June appointment for day surgery at University Medical Center (UMC).
"That experience (Dr. Baynosa performed a partial mastectomy and sentinel lymph node dissection) couldn't have gone better," Jackson says. "I woke up without any pain. I had someone at the hospital to drive me home, but the doctor had me stay the night because she didn't want me home alone. She didn't have to do that, but that's the way she is … I also couldn't believe how nice the people were at UMC. If you weren't sure of where you were going, they didn't tell you where to go, they took you there."
Jackson says a nurse practitioner at Dr. Baynosa's office, Vanessa Tobias, is indicative of how the entire staff operates. "She was the one who was helping me with lymph node drainage. Even though on the day she was to help me she was going on vacation, she came in early in the day to work with me before her flight."
Notes Dr. Baynosa: "We want our patients to know we are here for them."
Well aware that a lack of physicians in Las Vegas adds to difficulties a patient can have in navigating breast cancer treatment, Jackson says she is hopeful that graduates of the Kirk Kerkorian School of Medicine will one day be able to help make treatment more accessible. A member of the AmeriCorps Senior Foster Grandparent Program – she visits elementary schools to help children with their reading – Jackson plans on becoming part of a breast cancer assistance program, now in its infancy, that is directed by the Jewish Family Services Agency.
The program, according to Jill Lund, a care management specialist at the agency, will help breast cancer patients navigate the healthcare system and make them more aware of resources available to them in the community. "The insight Connie will be able to provide will be invaluable," Lund says.
Just as she says Dr. Baynosa doesn't sugarcoat things, neither does Jackson, a retired preschool teacher.
"The first person I called after I found out I had cancer was my sister. She said you must be scared. I certainly am … You can't help but get emotional at times. I know medical problems can be difficult … I lost my husband to a form of dementia. But I know what helps a lot when you're going through something like this – when there are people like Dr. Baynosa and her staff who really care about you. It makes things a lot easier."