Pediatrician's Philanthropic Work Is a 'Game Changer'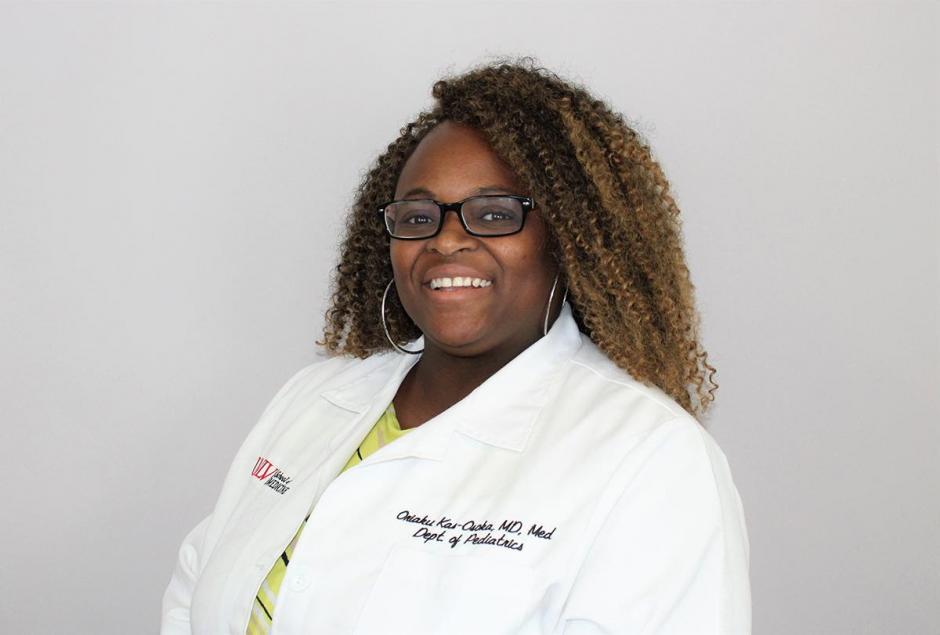 Award-winning associate professor and nonprofit medical director shares what drew her to a career in medicine.
One of eight children, Dr. Oriaku A. Kas-Osoka, MD, an associate professor in the Kirk Kerkorian School of Medicine at UNLV department of pediatrics, began reading fluently on her mother's knee at age three. During her childhood, nothing was more enjoyable than burrowing deep under her bed covers and reading by flashlight late into the night.
Her memories of growing up with her brothers and sisters in San Jose, California, include this remarkable reminiscence: "I distinctly remember my dad lining us up in front of him, and he walked down the line, telling us what we were going to become. When he got to me, he said I would become a doctor. I just laughed because who the heck knew what that really meant in grade school. I was stubborn and…remember telling myself that I would never be a doctor."
That she was wrong has worked out well for Southern Nevada and the nation. Kas-Osoka has become section head of adolescent medicine for the medical school and director of the pediatric residency program, winning the school's Bernard Feldman Distinguished Lectureship Award last year for sharing compelling evidence-based insights with residents about medical care for children, teens, and young adults.
Her community engagement work as medical director of the 150-bed Shannon West Homeless Youth Center was recently honored by the nonprofit HELP of Southern Nevada. Her involvement with the Sigma Gamma Rho Sorority and professional medical associations has resulted in her mentoring dozens of pre-med students as well as medical students, including 17 now in medical schools across the United States.
"Her weekly clinic has been a game changer for us," said Fuilala Riley, chief executive officer of Help of Southern Nevada. "The commitment she shows toward providing care is just amazing. Many of our young people have neglected their health."
The paperwork accompanying the pediatrician's award for "excellence in civic, community and professional leadership" reads in part: "Your philanthropic heart has allowed our youth the opportunity to visit you and your residents every single Wednesday during the medical clinic. The life skill classes have been instrumental in teaching our youth about safe sex, understanding their bodies, and healthy relationships. Last year 729 youths were served at our center. That is 729 patients who had the opportunity to have a medical physical, some for the first time. We would not have had that without you and UNLV."
The more particulars you learn about Kas-Osoka, the more you want to know how her career in medicine has come about.
Her parents, who immigrated to the United States, could arguably be called among the truest of true believers in the value of education, people decidedly evangelistic on the subject with their own children. Her mother became an accountant, and her father, who earned a Ph.D. in metallurgy, worked as a public school math teacher. The pediatrician says she and her siblings "are my parents' wildest dreams…We're all college educated…We achieved what they wanted us to achieve." The family now has professionals in medicine, pharmacy, law, and education.
Money, or rather the lack of it – Kas-Osoka notes that a teacher's salary and that of a part-time H&R Block accountant doesn't stretch far for a family of 10 – didn't stop the family from enjoying life or taking advantage of educational opportunities.
"My siblings and I lived a happy life…I remember always having someone to play or communicate with. I remember the love that was shared and the joy we had just being together. We didn't take vacations, but we had small things we would do like Saturday trips to the library, attending each other's sporting and extracurricular events…I played basketball and volleyball and violin and clarinet and ran track and painted…Our parents required us to read regularly. We even had summer competitions on who read the most books. There was always an associated prize, but most of all we wanted bragging rights. We were, and still are, a competitive family."
Schools, community libraries, and colleges, says Kas-Osoka, a graduate of the Charles R. Drew/UCLA Medical Education program, would have educational opportunities outside of regular school hours, where she and her brothers and sisters could get involved, frequently during the summers. "My parents would scrape up whatever money they had so that we could participate. I still don't know how they did it…I was involved in a program called Get SET during high school which really shaped my interest in science, in bioengineering…I'd also attend summer programs, which introduced me to San Jose State, Santa Clara University, Stanford, and many others."
Tutoring students in math and science for some spending money during her high school years and until she graduated with a bachelor's degree in bioengineering from the University of California, San Diego, Kas-Osoka was drawn, in part, to bioengineering by the possibilities of designing more advanced prostheses.
"I loved the analytical side of engineering, the ability to put pieces together like a puzzle, but also to pare down the big picture to its smallest part…But as I worked in the lab, I quickly realized I missed the face-to-face contact with others to hear about and deal with their issues. I remember my mentor saying how good I was in the lab, but how he knew I wouldn't be there much longer. I kept asking him why he thought that, and he said it was because he saw how I brightened up when I thought about the lives that could be saved by the work…He always said it was the discussion about patient care that really made me smile…But it wasn't until a college counselor told me that I would be an ideal candidate for medical school that I realized that everything my dad spoke of years ago was coming true…"
The decision to pursue a career in medicine meant entering a field she had not been fond of.
"I actually hated going to the doctor. I never saw a doctor that looked like me or understood my life. I had low back pain as a child, more than any child should endure (an abnormality in her lumbar spine was found years later and responded to treatment). I was never taken seriously, which bothered me. I felt like doctors didn't really care. When I decided on medicine, I wanted to be better than the doctors who cared for me because…people deserved that."
In medical school, it wasn't difficult for her to declare pediatrics as her specialty.
"You go through medical school, and they tell you when you come across the specialty you are meant to do, you will know it. For me, that was pediatrics. It wasn't just because of the experience I had on my pediatrics rotation, it was what occurred on my other rotations. I was elated when I was assigned to pediatric surgery, or when I got to follow babies after they were born on OB/GYN, and especially when I was assigned to child and adolescent psychiatry. I quickly put together that pediatrics was meant for me.
"Truthfully, pediatrics was likely calling my name from well before medical school. I am the firstborn daughter and babysat not only my own siblings but other children, as well. From babysitting came tutoring…I connected with children with this keen ability to relate to them and help them utilize tools they could identify with to learn concepts in math and science…While tutoring, I found a way to also mentor through youth programs like Big Sister Little Sister. I loved children. I loved being able to shape and mold them. I loved being a mentor and advocate. Pediatrics afforded me all of this and more."
After medical school, Kas-Osoka completed a residency in pediatrics at Children's Hospital and Research Center in Oakland, California, and a fellowship in adolescent medicine at Cincinnati Children's Hospital Medical Center in Ohio. "I wanted to give to adolescents…someone who listened, someone who cared, someone who saw them as an individual made up of many parts. I chose adolescent medicine because I connected effortlessly with this age group, guiding them through some of the most difficult years of their life. Adolescents are engaging, fascinating, funny, and malleable. Adolescents are truly gems. It is a time in life that they are still willing to listen even when people think they are not. You get to teach them, advocate for them, and show them how to take advantage of the opportunities in front of them."
Kas-Osoka left the Midwest for Las Vegas because it afforded her the ability to create new programming, engage with the underserved, and be a part of a growing medical community. She believes she should do all she can to help others help themselves. "I mentor young people because I truly believe if you're able to help them be successful, to live out their dreams, you're making a positive impact on society. As the pediatric residency program director, she sees another way to be a positive change agent.
"What I love most about being a residency program director is that I have a hand in shaping the future of pediatrics. Having an impact on our workforce has amplified my drive in medicine. I want to be responsible for developing and leading our next generation that will reshape medicine.
"One of my favorite memories with a resident helps me to recall the impact you can make on someone without realizing it. Most of my residents will tell you, I have a saying, 'Do Better, Be Better, Deserve/Expect Better.' I knew that this resonated with one of my residents because when he graduated he had an artist create a framed poster of my saying and left it with me with this message: 'I will never forget how hard you worked for us so that we could work hard for others.'"