Sacrificing Family Time and Finances to Help Fight Coronavirus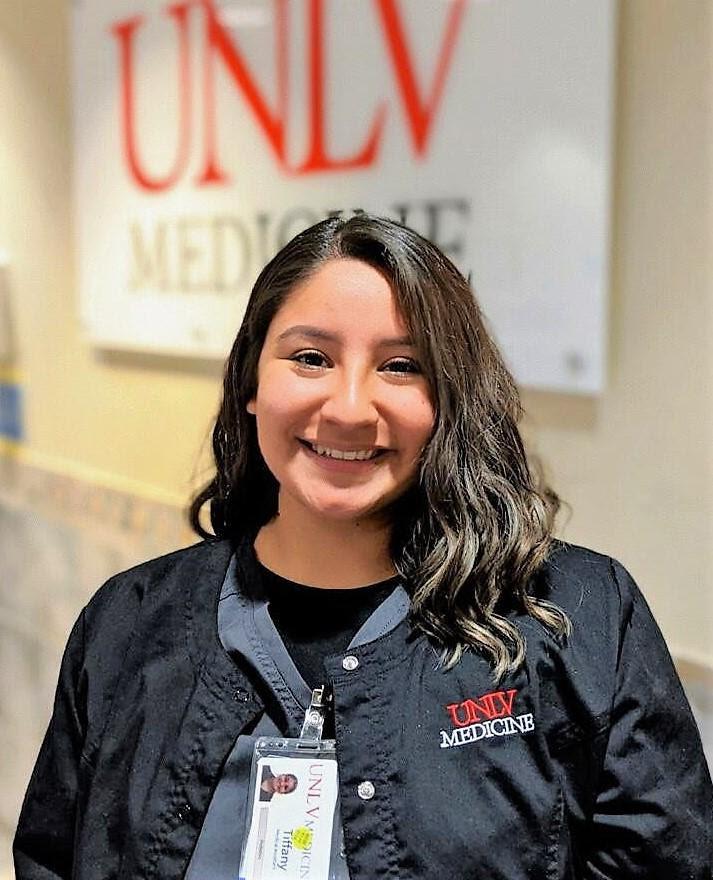 You might say Tiffany Robledo is on the front line of the front lines — she swabs inside the noses those arriving for UNLV Medicine's curbside COVID-19 testing program. After the medical assistant collects specimens, they are then taken to a lab for testing. She is part of the program that has tested more than 3,000 people in Southern Nevada in less than a month.
"I'm only 21 and super proud that I've already been put in an important position to help people," says Robledo. "It's something that must be done to try and curtail the spread of this disease."
She's confident the personal protection equipment (PPE) she wears on the job actually protects her. But still, she offhandedly adds, "I had to move out of my parents' house as soon as I found out I was testing potential COVID-19 patients. They're elderly with underlying health conditions, and I also have a special needs sister living there. No matter how small the chance, I couldn't risk bringing the virus home."
She then quickly started to talk about how she's going to school full time on her way to becoming a nurse, while also working full time in the UNLV Medicine Pediatric Clinic. She plans on becoming a nurse practitioner.
"When did you find out you were going to be in the testing program? Where did you move?" Robledo is asked. "That couldn't have been easy personally or financially."
She found out on a Friday that she was going to be part of the testing protocol on the following Monday. "My mom found a small casita/studio on Facebook being rented out and was available for immediate move in. It's a small room connected to someone's house. Very small but it got me out of potentially getting my family sick… It did make a huge dent in my bank account and having to say goodbye to my family was hard. The whole family was crying. But I know this is what I signed up for going into the medical field and this is something I plan on doing for the rest of my life, and that's simply caring for others and saving lives."
Though her mother paid her first month's rent of $650, Robledo had to come up with the $400 deposit and furnishings for the casita.
"I'm glad I had money in my bank account," laughs Robledo, who pays for her College of Southern Nevada tuition out of an hourly wage that is less than $17. "It was the worst time to move, in the middle of a pandemic. I had to spend at least $850. I spent three hours at Walmart and had a hard time finding cleaning supplies. I had to buy a bed and a mattress; my mom gave me a blanket. I bought a little sofa to make a living room and my mom gave me a desk for my homework and some hangers. It's not everything I want, but I feel blessed to have a good job. I actually feel very positive. My family is still healthy and alive and, even though I'm lonely — it's my first time living alone — I wake up every day and that makes me happy."
Ever since Robledo saw healthcare providers helping her special needs sister, she has wanted to enter the medical field. She did her EMT training while in high school at Veterans Tribute Career and Technical Academy in Las Vegas. She did her medical assistant training at Future Medical Training Center. In December she was hired by UNLV Medicine. She's now getting all her basics in at CSN before starting her registered nurse training.
Today, Robledo's family phones her to talk and to let her know she's got mail. They leave it outside the front door.
"My whole family waves at me through the window when I'm there," the future nurse practitioner says. "They're very proud of me. You know what — I think all my hard work is going to pay off. I'm really going to be able to help people."