Surgeon Encourages Minority Students to Pursue Medical Careers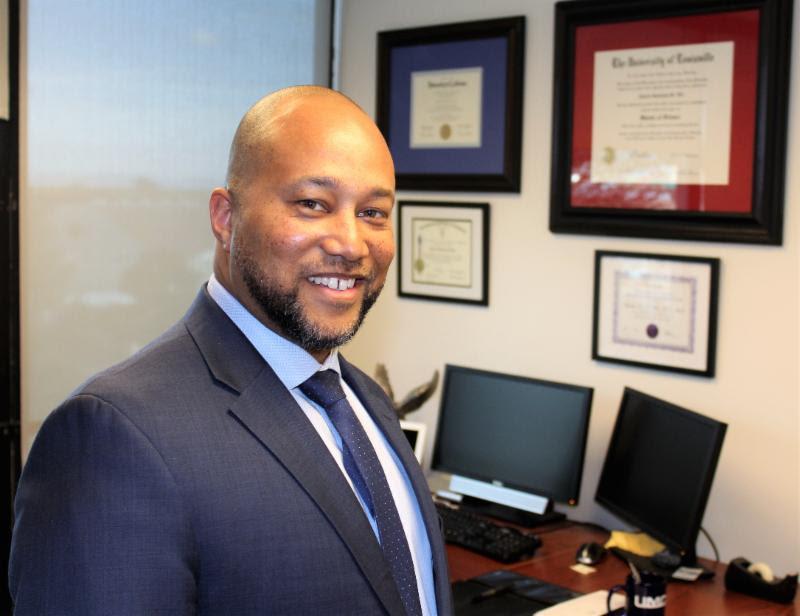 The story that ran in the Las Vegas Review-Journal last May was compelling. Mary Kay Duda's life was saved by UNLV Medicine's Dr. Charles St. Hill.
St. Hill, one of only three fellowship-trained surgical oncologists in Nevada, performed a complex 10-hour surgery known as a Whipple procedure to remove a large tumor that enveloped her pancreas.
"I've been given the gift of life," a grateful Duda would later tell St. Hill and reporter Jessie Bekker.
Inspirational Goals
St. Hill, who is African-American, hopes the story of how he became a surgeon will be compelling enough to inspire other minority youths to go into medicine.
"That's why Black History Month remains important," said St. Hill, who stressed that he wants to be known as a fine surgeon, not a fine black surgeon. "If the history revealed in that month can inspire others to go into fields they might not otherwise attempt, it's worthwhile."
St. Hill, whose late father was an OB-GYN, says his mother told him that at the age of 3 he had already expressed the desire to be a surgeon. He notes that one reason his parents didn't dismiss that desire as just a childhood fantasy was because of his extraordinary ability to sew at such a young age.
"Both my parents could sew and they taught me before I went to school. My dad actually could make men's suits growing up in Barbados."
When the snout fell off his teddy bear, St. Hill sewed it back on. His parents thought that example of sewing while he was still in preschool was a precursor to his suturing as a surgeon.
Encountering Prejudice
St. Hill's father, who had come to the United States to run track for Philander Smith College, in 1969 was in the first class at the University of California at San Diego Medical School to admit black students. St. Hill later was told by his father's mentor at the school that threatening hang-up phone calls made by people unhappy with blacks being admitted were not uncommon.
Three months before his father graduated from medical school, St. Hill was born. He attended San Diego private schools, where he did very well but ran into a few roadblocks. In high school in the early 90s, an English teacher gave him a C even though he had received straight A's on papers. When he asked why, he said the teacher replied, "People like you aren't going to do anything with yourself anyway."
A math teacher did the same kind of thing, giving him a B after he had received all A's on tests. That teacher made much the same comment as the English teacher. Stunned by their behavior and worried about making waves, St. Hill didn't go to administrators for possible redress.
"I couldn't get into AP (advanced placement) courses because of that," he said. "And that could have played a large role in my getting into the college I wanted."
Even at the University of California at Berkeley where he earned a degree in molecular and cell biology, St. Hill said he ran into racial problems. "I loved my time at Berkeley, but even there you couldn't get away from the race thing entirely."
He said he received a C-plus in a science lab section after four students told the teaching assistant that they did his lab papers for him, when, in fact, he was the one who did the papers for the group that received A's. "I told the teaching assistant what actually happened and told him to report what happened to the professor. And he said, 'Who do you think he's going to believe — me or you?'"
Race, he said, was not a factor from students or professors while he was pursuing his medical degree at the University of Southern California Keck School of Medicine; a general surgery residency at the University of Nevada School of Medicine; and a surgical oncology and a Hepato-Pancreato-Biliary fellowship from the University of Louisville.
Positive Experience
His experience was so positive in Nevada that he returned in 2017. He is now a tenure-track assistant professor of surgery in the UNLV School of Medicine.
As a practicing physician, he has run into a few people who say they don't want to be operated on by a black doctor. "I don't take it personal," he said. "It's just the way some people are in our country. It's part of our culture."
He recalls with a chuckle that one Asian-American woman sought him out because he was a black surgeon. "She said I really had to be good if they allowed a black man to be a surgeon."
St. Hill has been recognized as one of the country's finest technical surgeons, winning the Society of American Gastrointestinal and Endoscopic Surgeons "Top Gun" competition in 2010. In the competition, surgeons compete on virtual anatomy simulators. He also was a finalist in 2009.
Past Issues
St. Hill knows that he's had it much easier than many other black doctors who wanted to go into medicine. In the late 19th and early 20th centuries, for instance, few medical schools would admit black students regardless of their academic excellence. Medical education was limited to a few black medical colleges, including Howard University College of Medicine and Meharry Medical College in Nashville. For those becoming physicians, specialized studies and hospital privileges were almost unattainable as few hospitals allowed black physicians access for training or to treat patients. The National Library of Medicine points out that "this continued into much of the 20th century, and although some black students were admitted into white medical schools and hospitals, they faced blatant racism, ostracism and prejudice…."
In 2008, the American Medical Association (AMA), called by many economists the strongest trade union in the United States, issued an apology to black physicians. It had excluded black physicians from its ranks for nearly a century after the Civil War, closing several black medical schools and virtually ensuring that most black physicians were kept from specialties like surgery as well as from research.
Today, the AMA, which has 220,000 members, works to rectify its past. It funds pipeline programs for aspiring students, offers financial aid to underrepresented students, and supports programs to cultivate minority faculty members.
St. Hill, who says he will do all he can to help young people enter the medical profession, enjoys what he does as a clinician, teacher, and researcher.
He regularly has had his research published in peer-reviewed journals, including the Journal of Surgical Oncology.
"I love what I do. I get to work with students — they keep you on top of your game. And I get to work with patients — make them feel better. My goal is just to keep pushing the envelope with surgical oncology. I want people to be able to have better lives."