UNLV Health opens 2 clinics in CCSD buildings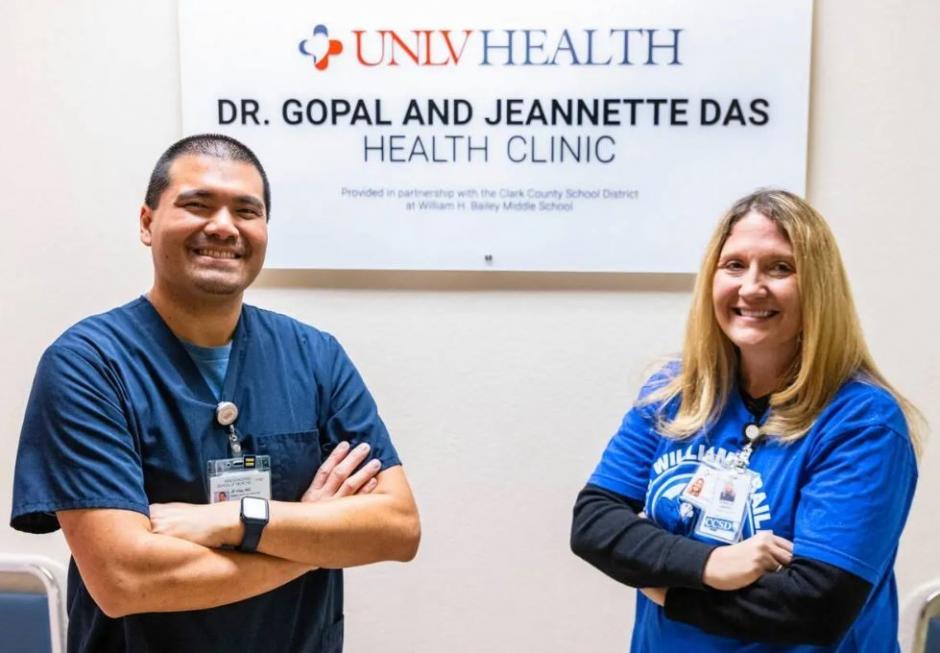 Clark County School District students and their siblings can get access to health care at no cost at two new UNLV Health clinics.
The school-based health centers inside the district's Family Support Center and Bailey Middle School in Las Vegas serve those ages 3 to 21.
The free clinics aim to improve access to medical care for youth and minimize the amount of time they're missing school.
"We are really excited that our students aren't having to miss much instructional time," Bailey Middle School Principal Danielle Duterte said.
The clinic at the school district's Family Support Center on South Maryland Parkway opened in early March. The district's support center primarily serves newcomer and refugee students, but provides services for all students.
Bailey's clinic opened in August but expanded in mid-March to also serve students from nearby Hickey Elementary School and Sunrise Mountain High School.
UNLV's school-based health center initiative is a two-year pilot project. The Bailey location is funded by a donation from Dr. Gopal Das and Jeannette Das. The Family Support Center clinic is funded by the UNLV Health Department of Pediatrics.
Accessing care
Students and their siblings can receive services such as primary care, sick visits, immunizations, sports physicals, care for chronic conditions such as asthma, and mental and behavioral health treatment and referrals for conditions such as attention-deficit/hyperactivity disorder (ADHD), anxiety and depression.
Scheduled appointments and walk-ins are available. There's no cost to families, but UNLV bills private insurance and Medicaid when possible.
The Bailey clinic is open two half days a week, while the Family Support Center site is open three full days.
The Family Support Center clinic — which will operate year-round except major holidays — is operating at capacity, seeing anywhere from 11 to 20 children a day.
Bailey's health center operates when school is in session, but recently got approval to stay open this summer. It includes three exam rooms and an area to process medical tests such as for COVID-19, the flu and strep throat.
The school-based health centers provide convenience, said Dr. Julpohng Vilai, a UNLV Health pediatrician and medical director of school-based health.
They also provide peace of mind for parents, knowing their children are taken care of, he said.
In addition to the UNLV school-based health centers, the school district offers free telehealth primary care to all students through an agreement with Hazel Health — an offering that began in 2020.
It also works with a handful of community organizations that provide medical, dental, vision and mental health services to students at no cost — some operating districtwide and some at certain schools.
Filling a need at Bailey
Duterte said that it was a long process waiting for a clinic to open at Bailey. Once it did, foot traffic was slow initially but has recently picked up, she added.
In February, the Bailey center served about 25 children and that number was up to nearly 40 in March.
Duterte said the center has streamlined the process of handling sports physicals and immunizations.
It also provides healthcare access to the area, she said. "We're really happy to be the access point for the northeast community here."
About 50 percent of the children served at the Bailey health center are uninsured and transportation is also a major barrier to accessing health care, said Pamela Girgis, a pediatric nurse practitioner and program manager for school-based health.
Before the clinics opened, "a lot of kids weren't able to come to school because they needed vaccinations," she said.
At Bailey, parents fill out medical consent forms so their child can access the health center when needed. Parents don't need to be at the clinic if their child is 12 or older, and they receive a follow-up report after the visit.
Hickey and Sunrise Mountain students must have a parent with them since they're coming from off campus.
A long history
At Bailey, the new health center helps fill a gap created in 2018 when a similar clinic operated by Foundation for Positively Kids closed.
UNLV's project to open school-based health centers was several years in the making. Agreements between the school district and university were pulled from School Board agendas twice in two years — in 2019 and 2021.
Ed Gonzalez, a community member representative on Hickey Elementary's school organizational team, was among those who pushed for years to get a school-based health center reopened at Bailey.
It was a challenging road, he said, noting it's frustrating it took this long. "We're still not done yet."
More school-based health centers are needed, Gonzalez said, and that would help education throughout the valley.
By Julie Wootton-Greener Las Vegas Review-Journal