UNLV Medicine Pediatric Surgeons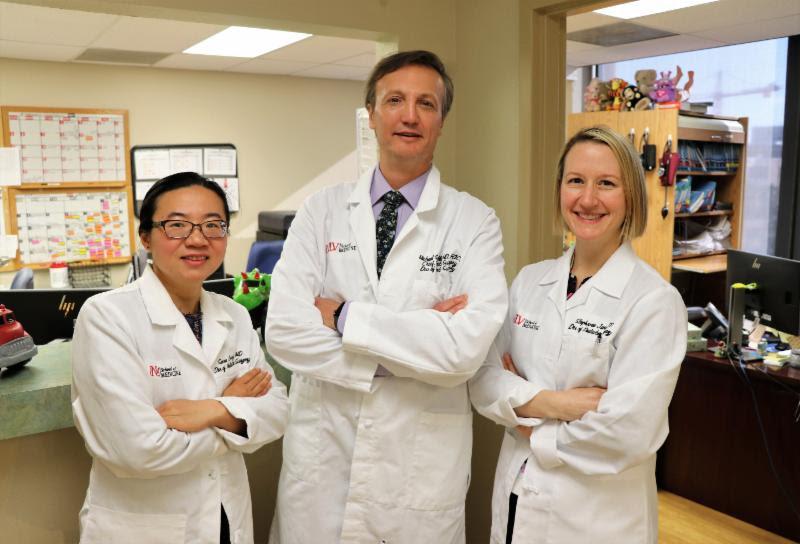 UNLV Medicine Brings More Pediatric Surgeons to Las Vegas.
They cannot always say what's bothering them. They cannot always answer medical questions. They are not always able to be patient and helpful during a medical examination.
Yes, children are definitely not small adults in so many ways – they behave differently, they require specific testing for their specific illnesses, they need special techniques for procedures. Clinicians must always take into account the immature physiology of the infant or child when considering symptoms, prescribing medications, and diagnosing illnesses.
The more you talk with the UNLV Medicine pediatric surgery team — Dr. Michael Gerard Scheidler, Dr. Stephanie Anne Jones and Dr. Shirong (Sara) Chang — and the more you research their specialty, the more you realize just how important it is for children to have access to pediatric surgeons who diagnose, treat and manage children's surgical needs, including:
Surgical repair of birth defects
Serious injuries that require surgery
Surgical care of tumors
Weight-loss (bariatric) surgery
Chest wall deformities
Endoscopic procedures (bronchoscopy, colonoscopy, esophagogastroduodenoscopy)
Surgery for abnormalities of the groin in childhood and adolescence which include undescended testes, hernias, hydroceles (swellings in the scrotum) and varicoceles (when veins become enlarged inside the scrotum, which can impact fertility)
Dr. Scheidler points out that the UNLV pediatric surgical team in Las Vegas — their clinic is located at 3121 S. Maryland Pkwy, Suite 400 — is one of the first on the West Coast to move beyond traditional laparoscopic surgery to provide robotic-assisted laparoscopic surgery for children. That can mean a decreased length of stay in the hospital.
"We can help sick kids get over their sickness quicker," says Dr. Scheidler.
While many children still receive surgical care from adult specialists, the research, as reported by the American Academy of Pediatrics, is clear: Children treated by pediatric surgeons have better outcomes than those treated by adult specialists. In fact, one study done in Seattle showed that when pediatric surgeons dealt with intussusception — a life threatening illness which occurs when a portion of the intestine folds like a telescope, with one segment slipping inside another segment — there was 80 percent less risk of bowel resection, removing part of the bowel, than if a non-pediatric surgeon handled the procedure.
Dr. Scheider says the results are even more dramatic in pediatric trauma cases. He is board certified in both pediatric surgery and pediatric trauma surgery.
According to Dr. Scheidler, a five year residency in general surgery, followed by two year fellowship in pediatric surgery, better prepares a surgeon to handle children from the newborn stage through late adolescence. He began a general surgery residency in his native Pittsburgh with plans to become a heart surgeon.
But during his residency, he worked with Dr. John Adkins, a pediatric surgeon. Dr. Scheidler was so impressed with Adkins, with what modern medicine could do for children, that he decided to go into pediatric surgery, one of the most difficult career paths to pursue in medicine.
There are less than 700 board certified pediatric surgeons practicing in the U.S..
Dr. Scheidler, the father of two children, loves working with pediatric patients.
"They're so innocent. They just want to play. They look at you, want to know why they're sick. They didn't do anything wrong, but don't feel good. It compels you to make them feel better."
The pediatric surgeon has now been in Southern Nevada for 15 years, until recently only one of three such surgical specialists in the area. On call almost all of the time, he was wearing down. Fortunately, about 18 months ago, both Dr. Jones and Dr. Chang joined him in practice.
The three comprise the only academic pediatric surgery practice in Las Vegas, meaning they're connected with a medical school where both research and teaching are expected. They teach general surgeons and are always pleased when a resident decides to pursue a fellowship in pediatric surgery. The trio has also published research in distinguished journals that include: Journal of Pediatric Gastroenterology and Nutrition, Journal of Pediatric Surgery, and Journal of Laparoendoscopic and Advanced Surgical Techniques.
Prior to joining the UNLV School of Medicine, Dr. Jones practiced at Valley Children's Hospital in Madera, CA. She recalls operating on a premature baby born at 23 weeks.
"The child needed multiple operations — had a lot of problems," she recalls. "Now the child is growing and thriving. I still get birthday cards from the family showing how well the child is doing. It was an honor to help the child and the family. I feel very privileged to do this work."
Dr. Jones joined UNLV, in part, because of the opportunity to teach. "If I can help give them a skill, I feel as though I've shared something important."
Like Dr. Scheidler, she is excited about the pediatric bariatric surgery program he leads that recently got underway in Las Vegas. Studies currently show 35 percent of Nevada's adolescents are overweight or obese and projections are that by 2030, 50 percent will be obese and 85 percent overweight.
"The program is important for this population," she says, noting that problems like diabetes and hypertension may be solved through bariatric surgery. She adds that processed foods, coupled with a lack of exercise, have heavily contributed to the weight problem.
Scheidler says clinical psychologists and nutritionists are part of the program that could prolong a child's life by as much as 20 years.
"We have to be sure that the child is psychologically mature enough for this program." he says, stressing that no child under the age of 14 can have the surgery.
Dr. Chang, who was born in China but raised in Houston after her parents immigrated to the U.S., says she particularly likes minimally invasive robotic surgery because it means a faster recovery for kids.
"It's much easier to operate for a surgeon," says Dr. Chang, who also joined the UNLV School of Medicine after a stint with a hospital in California. "And it means less pain for a child."
A graduate of Houston's Baylor College of Medicine, she thought she would become a cardiothoracic surgeon until she was exposed to pediatric surgery.
"A child does not hide how he feels," she says. "If he's sick or not happy, he's going to show it. And you just want to help them. I work hard to make them feel better. I love working with kids."
Not long ago Dr. Chang had to perform a thyroidectomy — where all or part of the thyroid gland is removed – on a child with thyroid cancer. "That child is now cancer free," she says.
She says pediatric surgery can be intimidating at first because of how much smaller a child is. "You must handle tissue more gently as a pediatric surgeon," she says.
She has operated on a child that only weighed 450 grams.
Dr. Chang can think of nothing she rather do professionally than help children get well.
"I don't think there can be anything more rewarding."
To make an appointment with a UNLV Medicine Pediatric Surgeon: (702) 660-UNLV