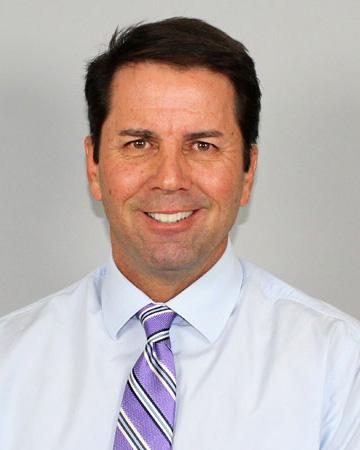 Paul Joncich
Media Relations Manager
Paul Joncich spent the first 30 years of his career as an Emmy winning television news anchor and reporter. His broadcast career took him across the globe in pursuit of stories. Now his job is working with local and national media to tell the story of the UNLV School of Medicine. Paul says it's a perfect fit, "because the School of Medicine is a gold mine of compelling stories about thoughtful innovation and people who have a passion to heal."
Paul grew up in Southern California and received his BA from Loyola Marymount University in Los Angeles, where he played shortstop on the baseball team.
He comes to us from KLAS-TV, the CBS affiliate in Las Vegas, where he spent five years anchoring the 4pm and 6pm newscasts.
Prior to that, Paul anchored and reported in Cleveland, Ohio for WOIO-TV (CBS) where he covered a myriad of stories including LeBron James' infamous departure and the arrest of the Cleveland Strangler.
Paul was also the primary anchor for CBS-13 in Sacramento, where in addition to anchoring, Paul's reporting took him to the former Soviet Union, where he spent a week covering the collapse of communism. In March of 2000, Paul was a witness inside San Quentin's death chamber during the execution of serial killer and rapist Darrell Keith Rich.
As a reporter, Paul was known for throwing himself into assignments. During Operation Desert Storm, he went through the rigors of qualifying for Army Ranger training. For a story that aired during halftime of a Super Bowl, Paul played semi-pro football…and still bears the scar from a violent hit to the chin.
Paul has also anchored and reported at KNXV in Phoenix and KUSA in Denver, winning two Emmy awards and receiving more than 15 Emmy nominations and Associated Press awards along the way.