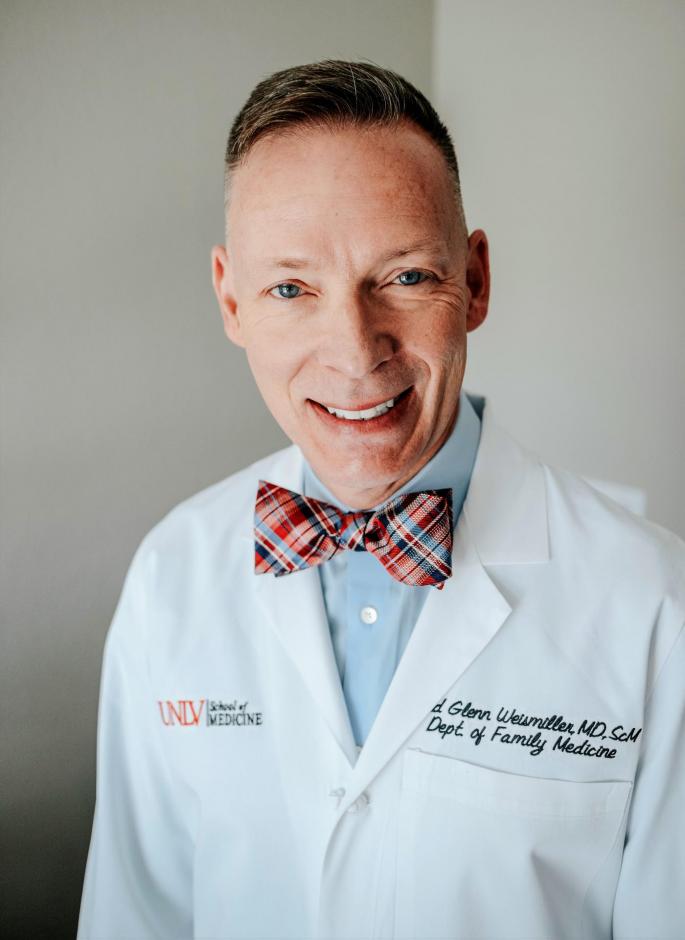 David Weismiller, MD, ScM, FAAFP
Family and Community Medicine, Women's Health
Dr. David Weismiller, a professor in the Kirk Kerkorian School of Medicine at UNLV Department of Family and Community Medicine, is known nationally for educating his colleagues through many learning activities and venues.
He has developed and presented continuing education courses to physicians through the AAFP "Board Review Express Course Series" since 2005. He also has educated colleagues through an AAFP webcast series covering multiple topics, ranging from geriatrics and primary care to treatment of blood cholesterol and sports concussions.
"There has always been a piece of me interested in how we most efficiently and effectively learn. I'm very curious, and in family medicine, I rely on my curiosity in diagnosing people and helping them become well," said Dr. Weismiller, who spoke in 2018 at the first Emirates Family Medicine Society Scientific Conference in Dubai.
A graduate of Jefferson Medical College of Thomas Jefferson University, he is enthusiastic about having the opportunity to help advance the Kirk Kerkorian School of Medicine at UNLV educational program.
"There are few educators who have the opportunity to be part of a new medical school from the ground up, from the visual concept to developing the curriculum, to seeing the vision become a reality. Working at UNLV allows me to be creative in using higher education literature and research to help create optimal learning opportunities," he said.
His research activities and interests include preconception health, smoking and pregnancy, perinatal education strategies, curriculum development and evaluation, reflective problem-based learning, and faculty development.