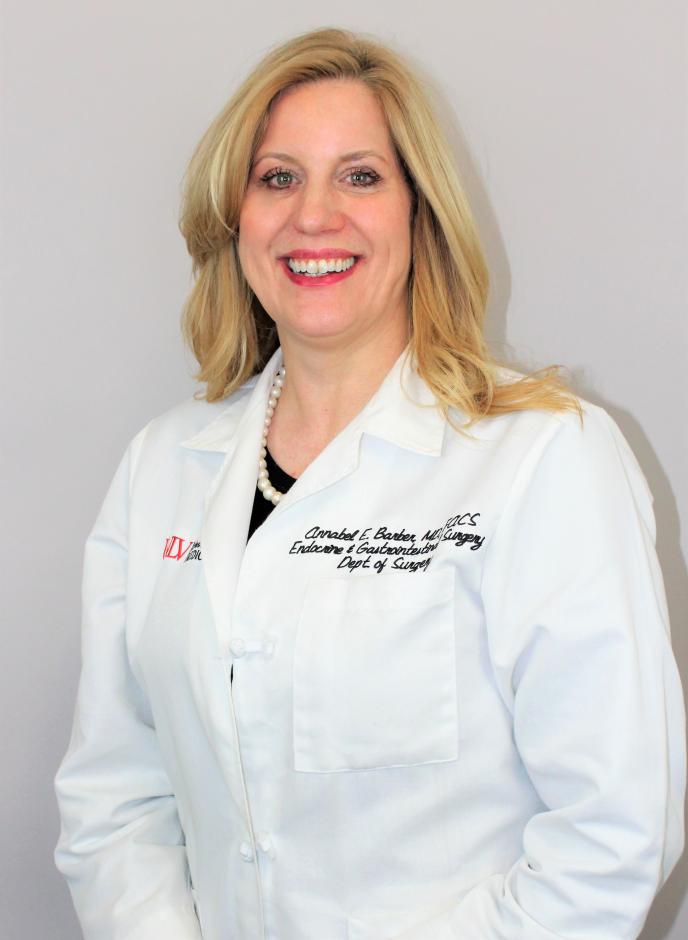 Annabel E. Barber, MD, FACS
General Surgery, Oncology, and Gastrointestinal Disorders
Dr. Annabel Barber, a professor of surgery at the Kirk Kerkorian School of Medicine at UNLV, is a board-certified surgeon who performs surgeries for patients with breast, colorectal, thyroid and head and neck cancers. She also sees patients with the following gastrointestinal disorders: acid reflux, heartburn, and inflammatory bowel disease.
A graduate of the University of Texas Medical School at Houston, she pioneered the use of pulsating electrostatic field therapy in Nevada for treatment of gastroparesis symptoms in patients. "It's an electric stimulator on their stomach that causes it to empty better and takes away their nausea," she says. "I've been working on that for quite some time, and we are doing further studies on that."
She has collaborated extensively on research with her husband, Dr. Robert C. Wang, who also works for the Kirk Kerkorian School of Medicine at UNLV.
Dr. Barber, who has done research on nutrition and critical care, is a proponent of patients taking better care of their health through dieting. Her research has included the effects of the Mediterranean diet on gastroparesis.
"Nutrition can turn people's lives around," says the doctor who did a research fellowship in surgical nutrition and metabolism at New York Hospital – Cornell University Medical College. "A lot of people don't have a very good life because of their health, and you really have a lot more power in turning things around than people think."