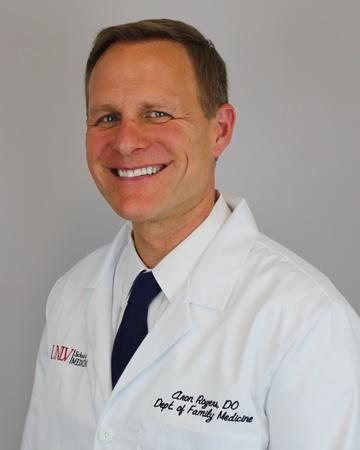 Aron Rogers, DO
Family & Community Medicine
Dr. Aron Rogers, an associate professor in the Kirk Kerkorian School of Medicine at UNLV Department of Family and Community Medicine, left a private practice in Las Vegas with 2000 patients for the opportunity to teach.
"I bring that real-world information of private practice to UNLV students who are learning how to practice medicine," he said. " I help them learn how to combine the ideal way of caring for patients with the expectation to see patients efficiently in a medical practice. I have been practicing medicine for 17 years and I love working with students, especially first-year students as they approach medicine and see things for the first time. For me, it's exciting to watch, it's like taking a kid to Disneyland for the first time."
Dr. Rogers, who gets to know his patients personally in order to better treat them, says his philosophy toward family medicine can be summed up in a quotation from Hippocrates: "It is far more important to know what sort of person has a disease than to know what sort of disease a person has."
Honored in 2012 with the Nevada Academy of Family Physicians Family Physician Award, he also provides medical care through the Volunteers In Medicine of Southern Nevada.
Dr. Rogers received his medical degree from College of Osteopathic Medicine of the Pacific.