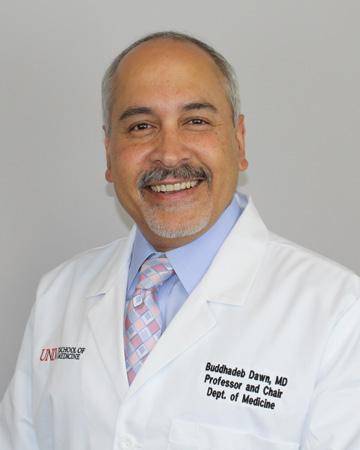 Buddhadeb Dawn, MD
Cardiology, Echocardiography
Buddhadeb (Buddha) Dawn, MD, is tenured Professor and Chairman of the Department of Internal Medicine at the Kirk Kerkorian School of Medicine at UNLV. He is also the Chief of the Division of Cardiovascular Medicine.
Dr. Dawn is a clinical noninvasive cardiologist and physician-scientist with research interests focused primarily on heart repair with adult stem cells. He is passionate about taking care of patients and mentoring trainee physicians. He is very involved with the educational operations of the department. His clinical interests include echocardiography and atrial fibrillation.
Before joining UNLV in July 2018, Dr. Dawn was the Maureen and Marvin Dunn Professor of Cardiology at the University of Kansas Medical Center, where he was Director of the Division of Cardiovascular Diseases, founding Director of the Cardiovascular Research Institute, and founding Director of the Midwest Stem Cell Therapy Center.
He received his medical degree from Calcutta Medical College, India, and underwent Cardiology training at the same institution. In the USA, he completed a residency in Medicine at the University of Missouri-Columbia, and completed a fellowship in Cardiology at the University of Louisville.
Dr. Dawn has authored over 180 peer-reviewed articles and book chapters. Research from his laboratory has been presented in national scientific meetings on more than 200 occasions. His research has been funded by the National Institutes of Health for many years. He serves on the Editorial Boards of several prominent cardiovascular journals, national scientific committees, and grant review panels. He is truly excited about the limitless potential of UNLV School of Medicine toward educating of the next generation of physicians, performing cutting-edge and truly innovative research, and delivering the highest quality of clinical care to residents of Southern Nevada.