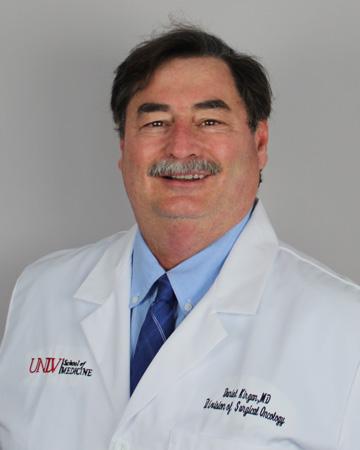 Daniel M. Kirgan, MD
General Surgery, Surgical Oncology
Dr. Daniel Kirgan, a professor in the UNLV School of Medicine Department of Surgery, is currently vice chair of the department, and chief of the Division of Surgical Oncology.
A graduate of the George Washington University School of Medicine, he completed his general surgical residency at the University of Nevada Reno School of Medicine. Following completion of his residency, Dr. Kirgan did a two-year surgical oncology fellowship at the John Wayne Cancer Institute in California.
Dr. Kirgan has served as a state liaison to the American College of Surgeons Commission on Cancer and has been on the American College of Surgeons Board of Governors.
A member of multiple surgical societies, including the Alpha Omega Alpha Society, Fellow American College of Surgeons, Society of Surgical Oncology, Association of Academic Surgeons, Society for the Surgery of the Alimentary Tract, Southwest Surgical Congress, and Western Surgical Association, Dr. Kirgan has been recognized as one of Newsweek magazine's Cancer Surgeons of 2015 and in the Desert Companion magazine as Doctor of the Year from 2013 through 2017.