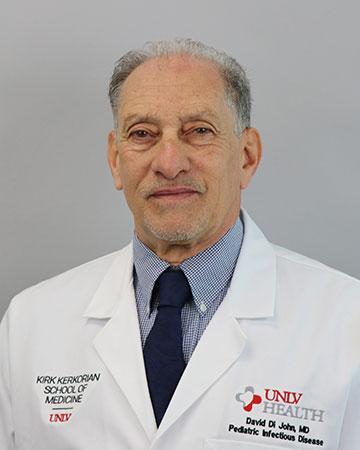 David Di John, MD
Pediatrics, Infectious Diseases
Dr. David Di John, a professor of pediatrics at the Kirk Kerkorian School of Medicine at UNLV, Interim Chair of Pediatrics, and the program director of the UNLV Health Maternal-HIV program.
He has more than 30 years of experience in research and treatment of pediatric infectious diseases, including clinical care for women, infants, children and youth with HIV/AIDS.
He directed a pediatric AIDS clinic in New York, taught clinical pediatrics for 18 years at New York University Medical Center, and served as director of pediatric infectious diseases for Flushing Hospital Medical Center in New York.
He is a graduate of the George Washington University School of Medicine and completed residencies at the University of Maryland and the North Shore-Long Island Jewish Health System.