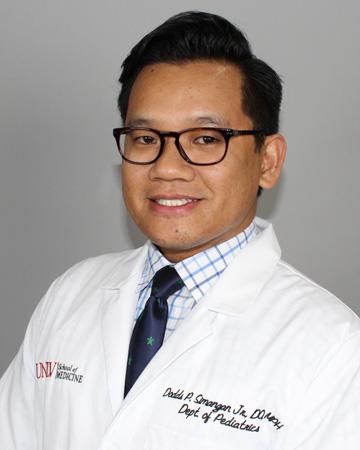 Dodds P Simangan Jr., DO
Pediatrics
Dr. Dodds Simangan is an an Assistant Professor of Pediatrics at the Kirk Kerkorian School of Medicine, and a board-certified general pediatrician; who sees patients while teaching medical students and pediatric residents at the UNLV Health Pediatric Clinic and the newborn nursery at Sunrise Children's Hospital.
Dr. Simangan has lived in several areas in the US but claims Spokane, Washington as his hometown. After pursuing a degree in Sociology and studying Pre Medicine at the University of Washington in Seattle, he completed his medical school training with A.T. Still University, School of Osteopathic Medicine in Arizona. There, he was of the inaugural class and partook in an innovative curriculum which partnered with the National Association of Community Health Centers that centered medical training at 10 training hubs around the country, which for Dr. Simangan, was the Wai'anae Coast Comprehensive Health Center. While in medical school, Dr. Simangan concurrently earned his Master's Degree in Public Health with a focus on health planning and programming. He then matched, trained, and served as Chief Resident at Nevada's only general pediatrics residency here in Las Vegas, where he has continued on as faculty.
Dr. Simangan's professional interests include general pediatrics, primary care, academic pediatrics, community based medicine, electronic medical records, advocacy & public policy, and public health. As part of his teaching of Pediatric Residents, being one of the Associate Program Directors, as well as director for multiple rotations within the Pediatric Residency Program, Dr. Simangan has become versed with and created close ties with several community and academic organizations which focus on childhood vaccinations, maternal and child health, newborn care, human trafficking, intimate partner violence, preventing child abuse, lead poisoning prevention, childhood poverty, minority health equity, oral health, and food insecurity.