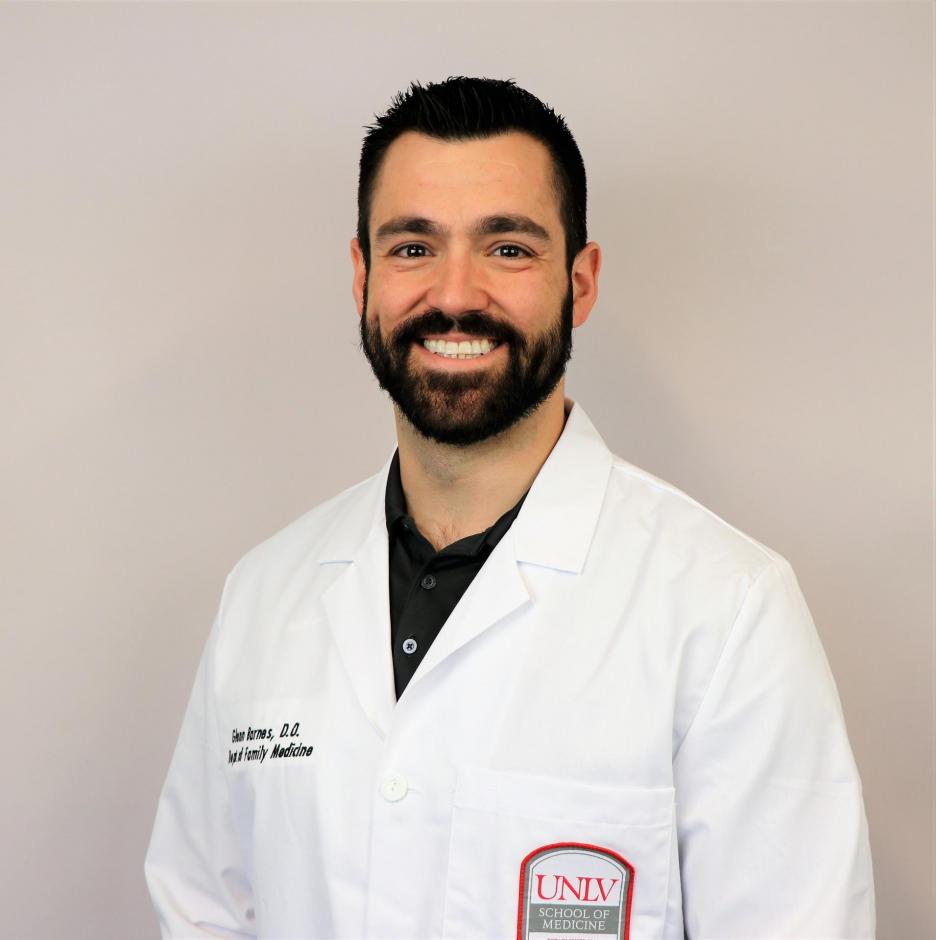 Glenn Barnes, DO
Family Medicine, Sports Medicine
Dr. Barnes is originally from San Jose, CA but was raised down the Colorado River in Lake Havasu City, AZ. He moved to Las Vegas during his high school years. He attended University of Nevada – Las Vegas to obtain his Bachelor's Degree in Pre-Professional Biology. Afterwards he obtained his Doctor of Osteopathic Medicine degree from Touro University Nevada in Henderson, NV. With a desire to stay in Las Vegas long term he was accepted and completed his residency in Family Medicine at the Valley Hospital Medical Center Family Medicine Residency Program where he also served as Chief Resident during his final year. He continued on to further his training in Primary Care Sports Medicine with UNLV's Primary Care Sports Medicine Fellowship which he completed in June 2019. Dr. Barnes has particular clinical interest in the detailed evaluation and management of concussions as well as diagnostic and interventional musculoskeletal medicine particularly involving regenerative medicine techniques. In his off time, Dr. Barnes enjoys spending time with his wife and young family on their boat, camping in southern Utah, snowboarding, and various types of motorsports.
During his sports fellowship Dr. Barnes was selected for podium presentations and invited as a special guest at multiple national conferences such as the annual meeting for the American Medical Society for Sports Medicine, and the National Athletic Trainers Association. In addition, he has recently authored a chapter on brain injury in mixed martial arts fighters that is pending publication. As a recent graduate on his residency and fellowship training Dr. Barnes is now in his first year of practice as a Family Medicine physician and a Primary Care Sports Medicine physician. As a Las Vegas local he has already secured team physician roles with the Las Vegas Aviators, Las Vegas Aces, and has been appointed Medical Director of UNLV Intramural Sports. On the academic side of medicine Dr. Barnes has been hired as the new Associate Program Director of the Primary Care Sports Medicine Fellowship under the guidance of Dr. Wade Gaal.
The original inspiration for Dr. Barnes to become a physician was a result of his older brother requiring knee surgery. On the day of the surgery the anesthesiologist was kind enough to show him some of the equipment and medication. Since that day he knew what he wanted to do with his life. Dr. Barnes then became the first person in several generations to obtain a Bachelor's Degree and is the first physician amongst his family. He worked full time on the Las Vegas strip as a food runner while attending UNLV to pay for his education himself. One of his first real encounters with medicine was at a free clinic called Volunteers in Medicine of Southern Nevada (VMSN) where he learned the true depth of good a Family Medicine physician could do.
Dr. Barnes has been a physician since 2015, board certified in Family Medicine for one year, and has just begun his practice as Primary Care Sports Medicine. He currently holds the titles of team physician for the Las Vegas Aviators, Las Vegas Aces, and UNLV Athletics. He is also the Associate Program Director of UNLV's Primary Care Sports Medicine Fellowship and is the Medical Director of UNLV Intramural Sports.
Dr. Barnes enjoys working with members of the community and athletes to treat and prevent a wide array of musculoskeletal and sports related injuries and diagnoses. When not working he enjoys doing things himself such as home improvement projects, going to the gym, and getting dirty working on cars, trucks, boats, and motorcycles. He has one son who loves to play outside and go swimming.