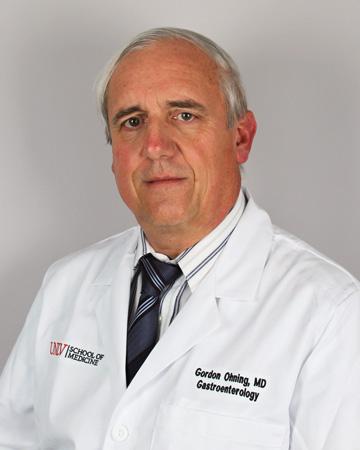 Gordon Ohning, MD
Internal Medicine, Gastroenterology
Dr. Gordon Ohning, a professor in the Kirk Kerkorian School of Medicine at UNLV Department of Internal Medicine, graduated from the Case Western Reserve University School of Medicine
He completed a residency in internal medicine at the University of Iowa and a fellowship in gastroenterology from UCLA.
After 30 years as a professor at UCLA — he also was a prolific researcher with the CURE: Digestive Diseases Research Center there — Ohning said the opportunity to help create the new UNLV School of Medicine was too good to pass up.
"How many times do you get to build a new public medical school from the ground up?" he said. "Very rarely. I get to help make sure the proper protocols and systems are in place. That's a tremendous opportunity."
Ohning, the section chief in gastroenterology at University Medical Center, the medical school's main teaching hospital, tells students the practice of medicine is not about making money.
"I let students know it's always about doing the absolute best for your patients, about being compassionate," He said. "You 're making a commitment to them. You've got to do your best. You have to really care, persevere, find out what's wrong. Make a correct diagnosis."