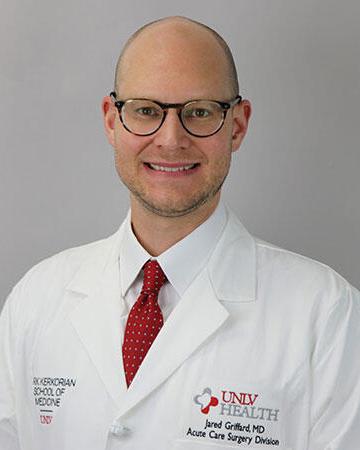 Jared Griffard, MD
General & Trauma Surgery
Jared Griffard, MD, an assistant professor in the Kirk Kerkorian School of Medicine at UNLV Department of Surgery, graduated from the University of Nevada, Reno, School of Medicine.
He completed his general surgery residency at the University of Tennessee Medical Center – Knoxville, and completed a fellowship in acute care surgery at Yale University School of Medicine, becoming board-certified in both general surgery and surgical critical care.
A California native who grew up in Idaho, Dr. Griffard graduated valedictorian of his high school class prior to graduating from Gannon University with a major in biology and minor in mathematics.
Dr. Griffard is an active member in both the Eastern Association for the Surgery of Trauma (EAST) and the American Association of Surgical Trauma (AAST), serving on the EAST mentoring subcommittee. He is also an active member of the Society of Critical Care Medicine (SCCM). His clinical interests include nutrition in critically ill patients and the use of point of care ultrasound in the ICU.
An accomplished swimmer, he competed in the United States Masters National Championships while in medical school and was a Division II student athlete as a college undergraduate.