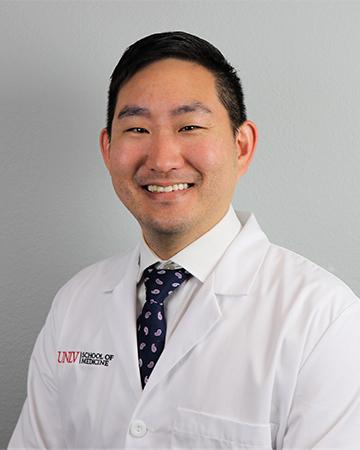 Jee-Hong (Peter) Kim, MD
Otolaryngology
Jee-Hong (Peter) Kim, MD, the author of more than 20 research publications in peer-reviewed journals, is an assistant professor in the Kirk Kerkorian School of Medicine at UNLV Department of Otolaryngology – Head & Neck Surgery.
Dr. Kim specializes in complex endoscopic sinus surgery, treatment of sinonasal tumors, and skull base surgery.
He is a graduate of the University of Pittsburgh School of Medicine. While there, he received a National Institute of Health (NIH) research grant and completed an additional year of the Clinical Scientist Training Program.
Dr. Kim completed his residency training in otolaryngology-head and neck surgery at the University of Southern California. He then went on to finish fellowship training in neuro rhinology and complex sinus/skull base surgery at Oregon Health and Science University.
His research work has appeared in scientific publications that include Otolaryngology – Head and Neck Surgery and Current Treatment Options in Allergy.