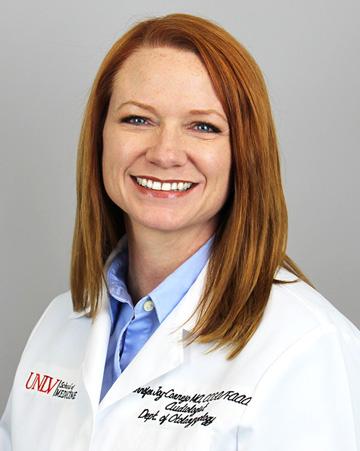 Jennifer Joy-Cornejo, Au.D., CCC-A/FAAA
Senior Audiologist
Jennifer Joy-Cornejo is a senior audiologist and faculty lecturer in the Kirk Kerkorian School of Medicine at UNLV, Department of Otolaryngology.
Certified in audiology and as a hearing aid specialist by the State of Nevada Pathology, Audiology and Hearing Aid Dispensing Boards, Joy-Cornejo possesses the certificate of clinical competence in audiology from the American Speech-Language-Hearing Association and is a Fellow of the American Academy of Audiology.
Prior to moving to Las Vegas in 2006, she worked as director of audiology at the Ear Institute of Chicago. In Southern Nevada Joy-Cornejo, who co-authored articles on cochlear implants, has also worked as a pediatric audiologist at Nevada Early Intervention Services and with the University of Nevada Reno Division of Otolaryngology-Head & Neck Surgery.