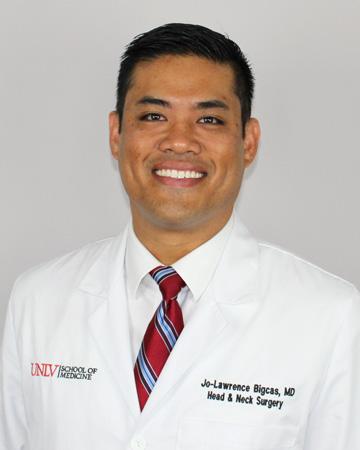 Jo-Lawrence Bigcas, MD
Otolaryngology, Head & Neck Surgical Oncology and Microvascular Reconstruction
Dr. Bigcas primary clinical interest is in the treatment of head and neck cancer patients, salivary and thyroid disease, cancer prevention, skull base surgery, robotic surgery, and head and neck reconstruction. He also has clinical interests in other subspecialties of otolaryngology including sinonasal disease, bony and soft tissue facial reconstruction, and facial reanimation.
Dr. Bigcas is an Assistant Professor at Kirk Kerkorian School of Medicine at UNLV Department of Otolaryngology-Head and Neck Surgery. He is a board-certified otolaryngologist and is fellowship-trained in Head and Neck Surgical Oncology and Microvascular Reconstruction.
He is originally from Southern California. He received his bachelor's in neuroscience from the University of California Los Angeles and his medical degree from the University of Miami Miller School of Medicine. He completed an otolaryngology residency at the University of Texas McGovern Medical School in Houston, Texas. He completed a fellowship at the Vanderbilt University Medical Center in Head and Neck Surgical Oncology, Skull Base Surgery, and Microvascular Free Flap Reconstruction.
Dr. Bigcas has multiple career interests including medical education and resident teaching. He has backgrounds in molecular biology research and engineering. He is interested in innovating technology in medicine and is interested to apply his prior training to his clinical interests.