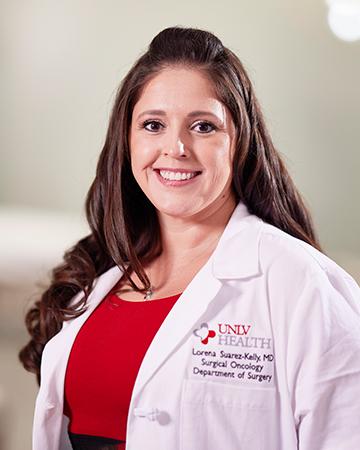 Lorena Suarez-Kelly, MD
General Surgery, Oncology
Lorena Patricia Suarez-Kelly, MD, who specializes in the management of complex cancer patients, is an assistant professor in the Kirk Kerkorian School of Medicine at UNLV Department of Surgery.
Her research focuses on the use of immune modulators to treat cancer and enhance the actions of antitumor therapies
After completing her undergraduate studies in neuropsychology at the University of Rochester, Dr. Suarez received her medical doctorate at the University of Nebraska College of Medicine. Her residency in general surgery was completed at Memorial Health University Medical Center in Savannah, Georgia.
Dr. Suarez-Kelly also completed two fellowships at the Ohio State University: one in complex general surgical oncology and the other a two-year National Institutes of Health (NIH) T-32 Postdoctoral Research Fellowship in tumor immunology.
Performing complex and advancing cancer surgeries, Dr. Suarez-Kelly utilizes robotic and minimally-invasive techniques when oncologically appropriate to improve recovery time and decrease pain after surgery.
In addition to authoring several book chapters, Dr. Suarez-Kelly has published over 20 impactful manuscripts in prestigious journals, shedding light on novel cancer treatments, surgical techniques, patient outcomes, and advancements in cancer care.