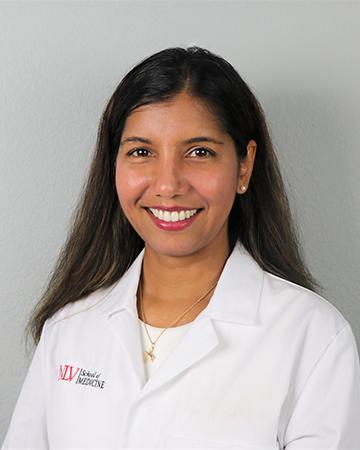 Meenakshi Rajan, MD
Plastic Surgery
Meenakshi Rajan, MD, who has extensive training in the treatment of breast cancer patients, particularly in complex microvascular breast reconstruction, is an assistant professor in the Kirk Kerkorian School of Medicine at UNLV Department of Plastic Surgery.
Dr. Rajan earned her medical degree at Rush University Medical College, completing her general surgery residency training at Cleveland Clinic Florida and plastic surgery residency training at the University of Texas Health Sciences Center in San Antonio.
She also completed a fellowship in microvascular and lymphedema surgery at the Cleveland Clinic and another fellowship in craniofacial surgery at the University of Texas Southwestern Medical School.
Schooled in newer techniques of lymphatic super microsurgery for the preventative and curative treatment of lymphedema, Dr. Rajan also performs pediatric and adult craniofacial surgery, such as cleft lip repair and rhinoplasty.
After completing her undergraduate work at the University of Minnesota, where she majored in biochemistry and genetics, cell biology and development, she earned a master's degree in biochemistry and chemistry at the University of California San Diego.
Dr. Rajan's research has been published in several peer-reviewed journals, including Plastic and Reconstructive Surgery and the Journal of Laparoendoscopic & Advanced Surgical Techniques.