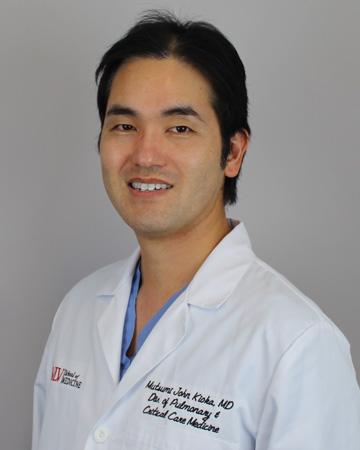 Mutsumi John Kioka, MD
Internal Medicine, Pulmonology
Dr. Mutsumi Kioka, an assistant professor in the Kirk Kerkorian School of Medicine at UNLV Department of Internal Medicine, is board certified in internal medicine by the American Board of Internal Medicine.
A graduate of the Loma Linda University School of Medicine, he completed a residency at the University of Southern California and a fellowship through Wayne State University.
Born and raised in Japan, Dr. Kioka's interest in medicine originated after a tragic event he witnessed as a college student. More than 20 years ago, he watched as a terrorist attack spread a potentially toxic gas at a Tokyo subway station, and he felt helpless as individuals around him suffered. Unable to assist the victims due to his lack of a medical background, he felt a deep desire to go into the medical field to aid individuals affected by natural and unnatural health issues.
In a later tragedy, Dr. Kioka lost his mother to pancreatic cancer while he was in medical school, a loss that also shapes his empathy toward patients who are facing health struggles. It sharpened his resolve to provide a thorough education to trainee physicians with whom he interacts.
Since his move to Las Vegas in 2016, he has crafted a detailed and structured curriculum for intensive care residents while both educating residents and fellows and working as a clinician.