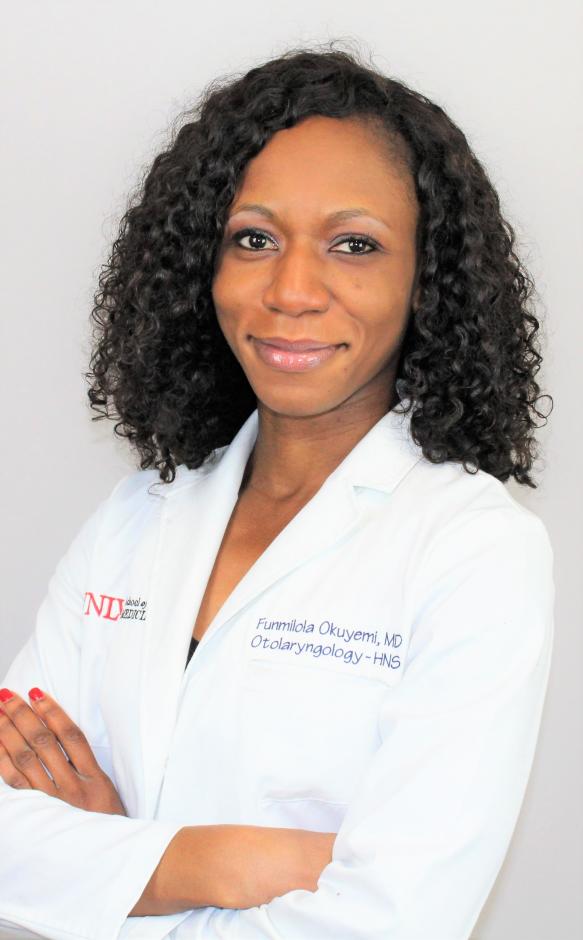 Oluwafunmilola T Okuyemi, MD, MSCI, FACS
Otolaryngology, Oncology and Microvascular Surgery
Dr. Oluwafunmilola Okuyemi, an assistant professor in the Kirk Kerkorian School of Medicine at UNLV Department of Otolaryngology, is currently the only active otolaryngology-trained microvascular reconstructive surgeon in Nevada.
Her research interests include clinical outcomes research investigating functional outcomes in head and neck cancer treatment, and microvascular reconstruction. Dr. Okuyemi also has interest in investigations into possible future head and neck transplantation therapies.
Dr. Okuyemi's clinical interests include head and neck cancer (including oral cavity, oropharynx, sinus, larynx, skin) microvascular surgery, salivary gland tumors and cancers, facial nerve reanimation, skull base tumors, sinus surgery for benign and cancerous disorders, and reconstruction of the head and neck.
She received her medical degree from Washington University School of Medicine in St. Louis and also completed her otolaryngology residency training there. She also obtained a Master of Science in Clinical Investigation from Washington University School of Medicine. She completed fellowship training in head and neck oncology and microvascular reconstructive surgery at the University of Iowa Hospitals and Clinics Department of Otolaryngology.
Dr. Okuyemi, who has written several book chapters in her area of expertise, has also served as a reviewer for several journals including JAMA Otolaryngology-Head and Neck Surgery.