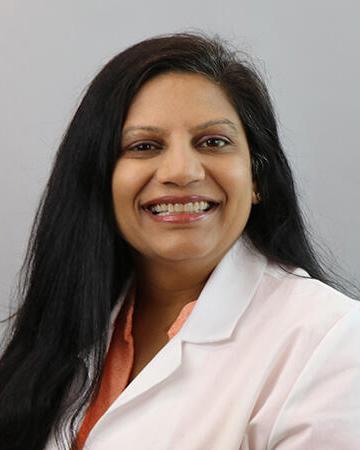 Suparna (Supa) Shah, MD
Otolaryngology, Head & Neck Surgery
Suparna (Supa) Shah, MD, is an assistant professor in the Kirk Kerkorian School of Medicine at UNLV Department of Otolaryngology – Head and Neck Surgery.
Before her career in medicine, Dr. Shah earned an MBA at the University of Houston and spent several years working in the business arena in a managerial capacity. Leaving a successful career in business, Dr. Shah began her medical education at the New York College of Medicine where she earned a medical doctorate before completing her residency in otolaryngology at the University of Texas Medical Branch.
Dr. Shah has completed fellowships in laryngology and head and neck oncology with microvascular reconstruction both from Oregon Health Science University. She has a particular interest in cancers of the head and neck, voice and swallow disorders, and airway reconstruction. Dr. Shah has multiple peer-reviewed publications to her credit and has presented at the American Head and Neck Society 10th International Virtual Conference on Head and Neck Cancer, the Triological Society Combined Sections Meeting, and the 10th Annual Byron Bailey Surgical Society Meeting.
In her free time, Dr. Shah stays active through hiking, camping, and yoga.