UNLV Plastic Surgeon Reattaches Roper's Thumb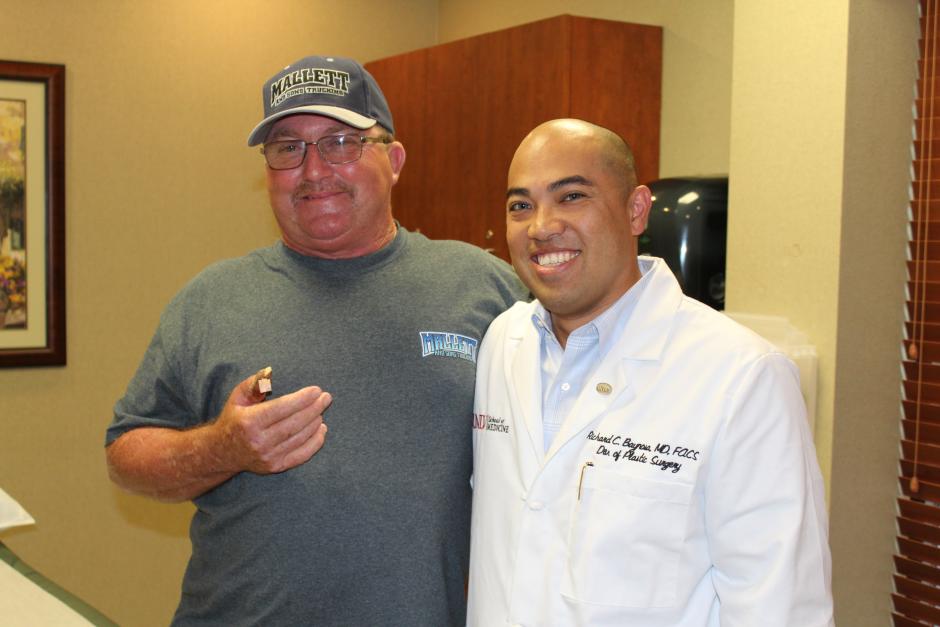 Ben Mays held his nearly severed thumb, dangling by a ligament, in his right palm as he rode his 17-year-old quarter horse Bubby out of the South Point Arena and across the parking lot to an ambulance.
He swung the doors open, held out his dangling digit to show the stunned paramedic inside, and handed his horse over to another roper. Then he climbed in and held a bag of ice on his thumb — still shoved inside the white glove he had been wearing — as first responders sped him to University Medical Center in Las Vegas.
The 53-year-old calf roper knew time was of the essence. A dozen years earlier, he'd severed three fingertips in a similar roping accident and had two of them reattached.
On Tuesday, nearly nine weeks after the accident at the World Series of Team Roping, Mays and his thumb were healing nicely, said Dr. Richard Baynosa, the plastic surgeon who reattached it.
Mays, of Blythe, California, about 200 miles south of Las Vegas, described the accident matter-of-factly when the doctor was done with his exam.
'Like fishing'
"It's like fishing, you know? When you're sitting there fishing, you catch a fish, and he runs on you, right? The spool on your reel goes 'zzzz,' you know?" Mays said of the way the rope coils sizzle around the horn on his horse's saddle after he lassos a calf.
On Dec. 10 , in the final rounds the day before the competition finale, Mays got his right thumb caught between the rope and the saddle horn.
The thumb was nearly ripped straight off.
"It wasn't good," Mays said in an understatement. "It just sucked it down there and cut it off."
About 45,000 fingers and thumbs are severed in the U.S. annually, Baynosa said, and fewer than 40 percent of them are successfully reattached.
Surgeons explore all available avenues for reattaching a thumb, even sticking another finger or toe in its place. Without a thumb, simple tasks such as driving, writing or holding a utensil become extremely difficult.
"The stakes are a little bit higher, because of the thumb's unique function," said Baynosa, chief of plastic surgery at the UNLV School of Medicine and University Medical Center. "The thumb provides the grasp; it provides the pinch. It's the opposing digit from all the other digits, so without a thumb, many of the things we do normally… we are not able to do."
Though the urgency with which Mays left the arena at South Point helped doctors get him into surgery in time, his situation was ticklish.
Because the thumb was still attached by a ligament, it was harder for Baynosa to connect each vein and nerve back to the body. And the thumb was ripped off the hand, so the wound wasn't clean, like it may have been had it been sawed off.
Even so, the surgery took six hours — about average for a thumb replantation, Baynosa said. It also left Mays with a slightly shorter thumb.
Raring to rope again
He is now a couple of weeks from saying goodbye to two metal pins holding his bones together and beginning physical therapy. His nerves have regenerated; Mays says he has feeling on the tip of his thumb.
The thumb is still scarred and covered in scabs, but Mays and his wife, Beth, say it looks fabulous.
"More than happy," Beth, 53, said of the outcome.
Mays, who won his first roping buckle at age 8, is excited to get back to work as an agricultural inspector. For now, he's home on the farm, where the couple grow alfalfa and raise cattle and pigs.
Though he couldn't compete in the final rounds of this year's World Series of Team Roping, Mays said he and his partner will be back in the arena in Las Vegas in December. They have already signed up and mailed their entry fees.
Aboard his faithful steed Bubby, Mays will swing a rope again, though not the same one that cut off his right thumb.
That one, he says, is bad luck.