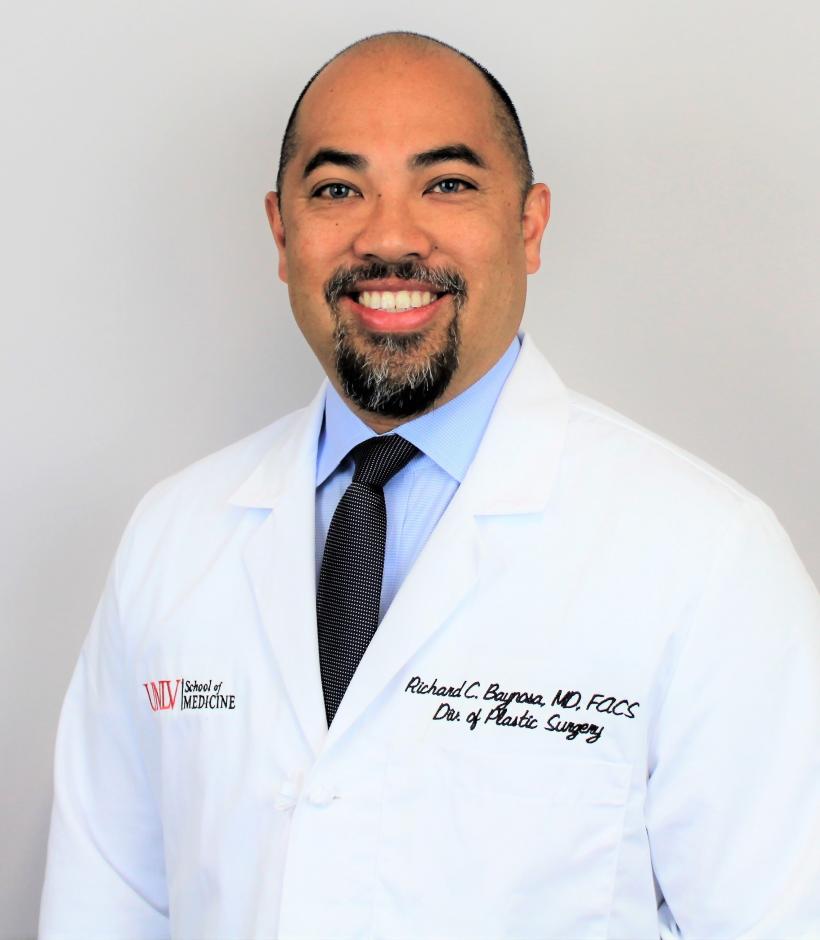 Richard Baynosa, MD, FACS
Plastic Surgery
Dr. Richard Baynosa, an associate professor and head of the Section of Breast Surgery at the Kirk Kerkorian School of Medicine at UNLV, serves as the chief and program director of the Division of Plastic Surgery. He is also University Medical Center's Chief of Plastic Surgery and MountainView Hospital's Chief of Plastic Surgery.
Dr. Baynosa's practice features comprehensive plastic, reconstructive and aesthetic surgery. He specializes in advanced aesthetic and reconstructive breast surgery. He offers the full range of primary and secondary cosmetic breast surgery from breast augmentation with silicone and saline implants and mastopexy/breast lift to difficult revision breast surgery and breast shaping after massive weight loss.
His team of plastic surgeons, including previous residents who now serve as partners, is the most experienced plastic surgery practice in Las Vegas offering microsurgical breast reconstruction with the patient's own tissue. They were the first in Nevada to offer this gold standard in breast reconstruction and perform the procedure routinely with nearly 10 years of successful outcomes and satisfied, happy patients.
Dr. Baynosa was fellowship-trained at the University Hospital of Ghent in Belgium. His breast reconstruction practice covers the full spectrum of options available including the use of tissue expanders, direct to implant reconstruction, fat grafting, latissimus dorsi flap, and numerous other flap options.
Dr. Baynosa serves on numerous national and regional committees for the American Society of Plastic Surgeons (ASPS) and is the current President of the Mountain West Society of Plastic Surgeons (MWSPS). He is the recipient of several awards and grants for basic science research in plastic surgery.