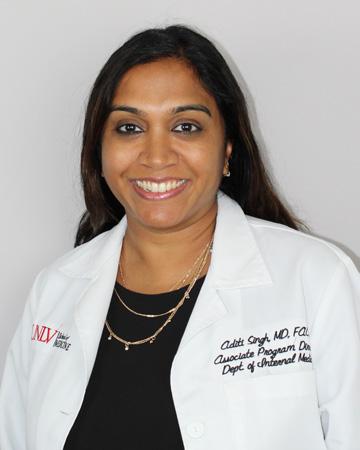 Aditi Singh, MD
Internal Medicine
Dr. Aditi Singh, an associate professor in the UNLV School of Medicine Department of Internal Medicine, is associate medical director of the internal medicine residency program.
A graduate of the University of Nevada Reno School of Medicine, she cares for patients in the areas of preventative medicine, diabetes, hypertension management and women's health.
Director of ambulatory education in the internal medicine program, Dr. Singh is board certified by the American Board of Internal Medicine.
Dr. Singh has served on the Nevada Medicaid Health Care Guidance Program Statewide Advisory Board, and the American College of Physicians – Nevada chapter Governor's Advisory Council and the group's program planning committee.