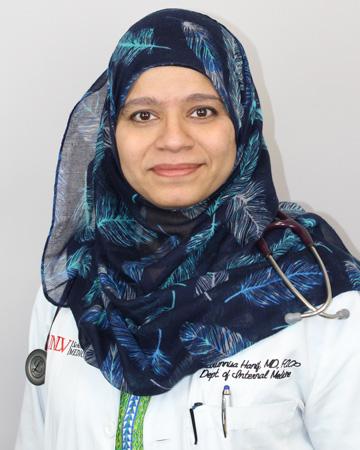 Badrunnisa Hanif, MD
Internal Medicine
Dr. Badrunnisa Hanif, MD, FACP, Board Certified in Internal Medicine since 2002 is an assistant professor in the Kirk Kerkorian School of Medicine at UNLV Department of Internal Medicine. She was graduated from Sindh Medical College in Karachi, in 1996, and completed her residency training in 2002 from the University of Nevada, Reno School of Medicine.
She practiced as a Hospitalist in the Las Vegas Valley for ten years, and was affiliated with Southwest Medical Associates for six years. She has worked in the development and extension of the Hospitalist program and worked as the Lead Hospitalist, doing work that has earned her the On The Spot Gold Award in 2004, 2005, and 2006.
She has also worked as a private contracting Hospitalist for four years, during which time she saw patients from many community providers in hospital settings, worked with specialized surgery services, and followed patients through their hospital course, through acute rehabilitation, LTAC, and skilled nursing facilities, until they were discharged. This expanded her extensive experience and knowledge in managing care at different levels. Her work also earned her the "Physician Recognition Award for Best Patient's Advocate" in 2011, from Spring Valley Hospital. She joined the University of Nevada, School of Medicine in 2012 as an Assistant Professor in the Department of Internal Medicine, and now works at UNLV School of Medicine, Department of Internal Medicine.
Dr. Hanif yearns to give back to her community through her teaching – she helps train and teach the next generation of students and residents to become compassionate and qualified physicians who can provide exceptional primary care. In 2017, the program became a part of UNLV-SOM, and she has continued her career as part of the Clinical Teaching Faculty with Kirk Kerkorian School of Medicine at UNLV.
Further, Dr. Hanif currently has a busy practice at Patient Care Center and cares for adult patients (and often, their families) as their primary care provider. She believes an integral part of primary care is preventive medicine, so she promotes age-appropriate screening and preventive vaccinations with shared decision-making for her patients.